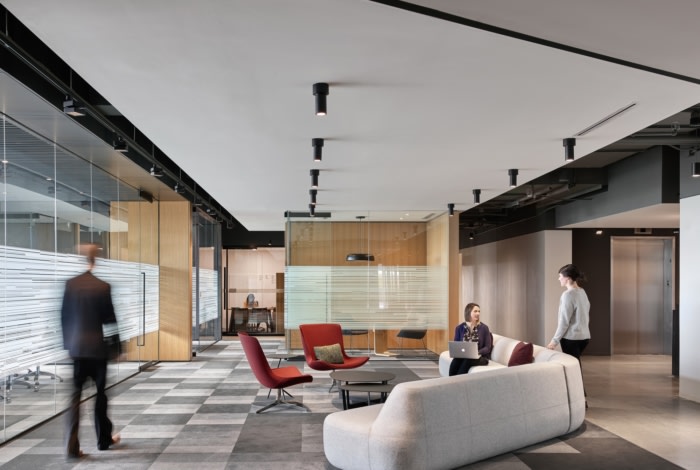 Kiewit Regional Headquarters – Lenexa
Fortune 500 construction and engineering company Kiewit wanted to consolidate several offices in the Kansas City region into a single campus in the live-work-play Lenexa City Center.
HOK was tasked with transforming the expansive space for the Kiewit regional headquarters in Lenexa, Kansas.
In addition to creating new space efficiencies, Kiewit recognized the opportunity for this office project to support its culture and goals for growth, recruiting and retention.

Working with a design-build team that included developer VanTrust and JE Dunn Construction, HOK designed a new six-story office building and renovations to an existing building. The team also reimagined the entry experience to celebrate the craft and culture of Kiewit. The project includes flexibility for future expansion within the campus master plan.

The open layout enables employees to collaborate in daylit, highly flexible offices. Other spaces include conference and training rooms, an auditorium, a full-service cafeteria and a coffee shop.

Environmental graphics and interior finishes use materials and an industrial, tone-on-tone color palette that celebrates the work done on the firm's large-scale engineering projects. Large icon walls, a timeline of Kiewit's history and inspirational quotes from its founders punctuate the space.

The campus fosters placemaking and connections to the community. The nearby Lenexa City Center, including shops, restaurants, trails, a library and an aquatic center, are all within walking distance for Kiewit's people.

The design-build team used building information modeling (BIM) tools to enhance collaboration and allow for real-time reviews and design changes to the fast-track project. This process minimized issues during construction and helped the team manage the budget.
Design: HOK
Photography: Michael Robinson