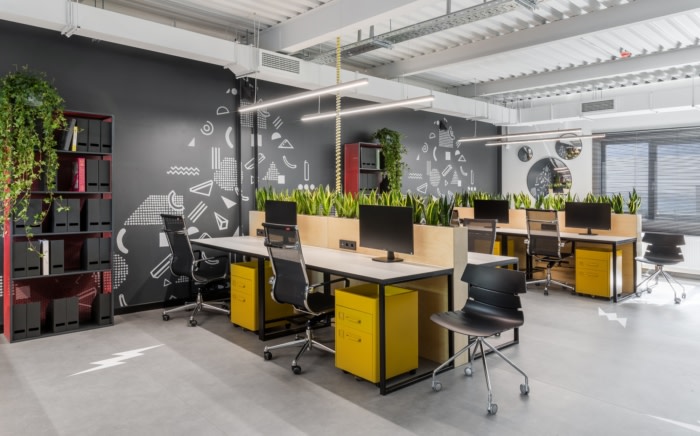 Electrical Corporation Offices – Saint Petersburg
Anton Bazaliyskiy studio incorporated the outdoors and elements of unexpected fun in the Electrical Corporation offices in Saint Petersburg, Russia.
This is the office space of the Electrical Corporation. The target of the designers was to create the positive atmosphere among colleagues and comfortable working space.

More greenery, more air, more light. Everyone would like to work in a forest , but to escape mosquitoes and snakes, we prefer to stay inside and feel natural environment around.

The weather is always good here, hedges, vines-wires from the ceiling dive into the partition of the table, charge phones, light up monitors.

We have also maintained positive surroundings in the canteen aimed at good digestion. Living palm trees stand on the painted floor. Electrical insulators familiar to the eye have been transformed into ceramic lamps. Light boxes made of plexiglass, bright furniture will not let your eyes get bored while eating.

Once in the director's office, all the stereotypes collapse. There is no usual rigor here. As soon as you cross the threshold, you begin to get to know its owners. The interior makes a big statement. Run up and jump onto the pink sofa. You find yourself between two marble tables, black and white, Yin and Yang, your project will be approved or sent to hell. Ok, relax, because you are hypnotized by the pattern on the floor, and a bottle of cool water is waiting for you in the mirrored bar.
Design: Anton Bazaliyskiy studio
Photography: courtesy of Anton Bazaliyskiy