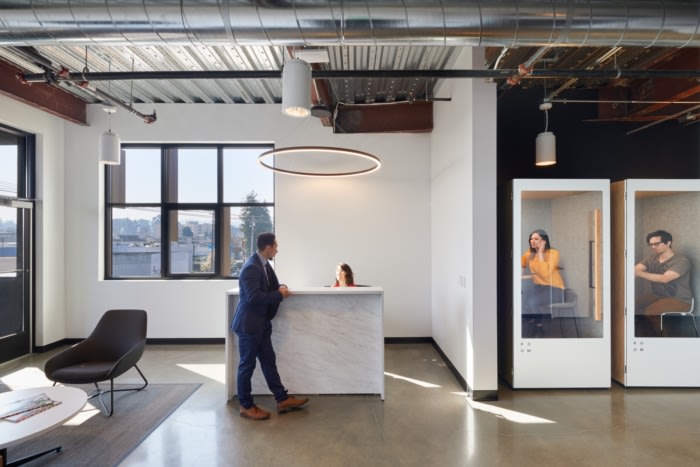 Compass Offices – Burlingame
Looking to combine multiple coworking offices into a single location in Burlingame, Compass wanted a new space to reflect their solutions driven technology with the sophistication of a luxury brand.
Unispace designed a fresh and attractive space for Compass' offices located in Burlingame, California.
Compass had worked with companies on previous projects and were dissatisfied with the quality and delivery of the work, so they were looking for a new company and process to support them. A crucial component to this project was adhering to a strict budget and a finished workplace, move-in ready within five months. They chose Unispace as their partner for this project along with several other projects across the US for their ability to expedite the delivery process and deliver a high quality, elegant space that met their brand standards.

The Burlingame space has the true look and feel of a tech start up with open structure ceilings, and a variety of space layouts including phone booths, co-working bench seating, and small offices allowing for fluid movement throughout the workplace to fit the realtors' different needs. The office keeps it simple with clean, on brand features, while being an attractive and enjoyable place to come to.

The Compass decision makers thought Unispace's level of communication and flexibility throughout the project had a huge impact on achieving the deadlines without sacrificing the workplace vision.
Design: Unispace
Photography: Lawrence Anderson