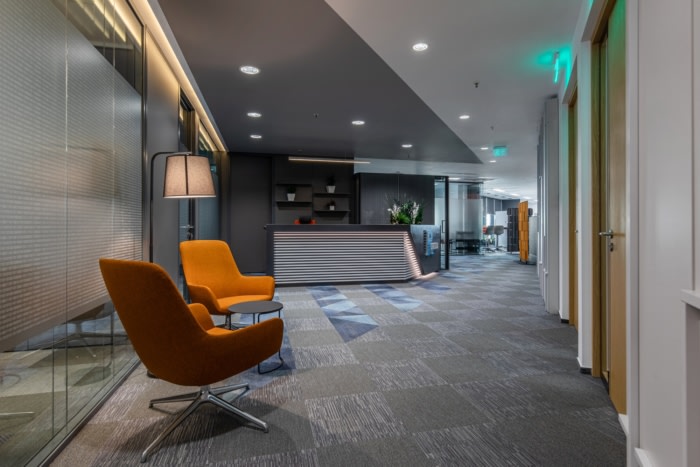 R Systems Computaris Offices – Bucharest
HTO Architecture and Engineering designed a streamlined space with pops of color for the R Systems Computaris offices in Bucharest, Romania.
HTO Architecture & Engineering was appointed by R System Computaris both as architect and contractor to develop their new Bucharest Headquarters located in Tiriac Office Building.

The project has a distinctive design that was intended to be implemented in order to create an individual personality of the imagined office overlapped on the new requirements for the office environment.

One of the main challenges of the project was to translate the new health and safety regulations into real life applications of usability for the conceived working environment scenarios. The architect's proposal was to balance the ratio in between closed and open working areas in order to obtain the most suitable ratio of different working typologies: open space, closed offices, collaborative areas, different sized meeting rooms, etc.

Another challenge, due to the fact that the Client's Brand book was in a redesign process, was for the architect to develop an overall design for the office which will easily accommodate the new brand identity. The research in this direction resulted in a design language and principles which were later included in the global brand book of the company.

In terms of functionality, all of the proposed and implemented solutions reflect a modular, flexible and convertible approach so that the office will easily adapt to any future requirements.
Design: HTO Architecture and Engineering
Design Team: George Nicu, Alexandru Apostol, Andrei Rusu, Ana Munteanu, Ana Georgescu
Photography: Sabin Prodan