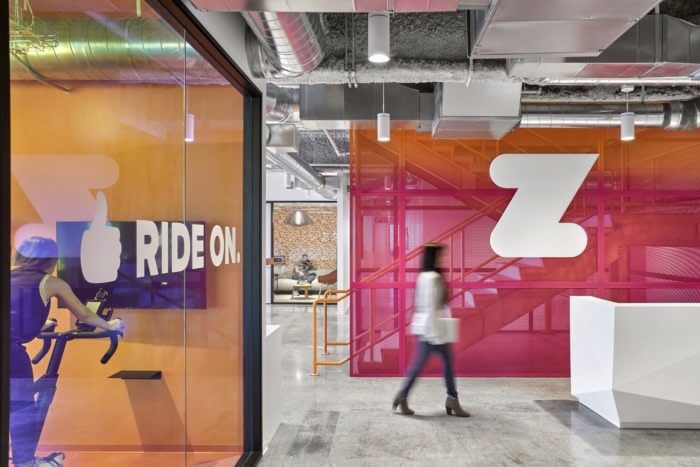 Zwift Offices – Long Beach
Zwift's newly expanded offices in Los Angeles exude a sense of activity and playfulness, two key themes important to the fitness gaming company.
IA Interior Architects utilized bright colors and a playful environment for productivity at the Zwift offices in Long Beach, California.
Blending the rigor of fitness with the fun of video gaming, the Zwift app invites athletes of all levels to train and compete indoors in immersive 3-D virtual playgrounds. Users can cycle or run in fantasy environments like the volcanic island Watopia as well as re-creations of real-world destinations including New York, London, and Paris—all with hidden twists to enhance the experience.

Needing to expand its Southern California headquarters, located in a building with commanding views of the Pacific Ocean and Port of Long Beach, the company took occupancy of two additional floors and embarked on a redesign of all three—a joint endeavor of IA's Orange County and Los Angeles studios that integrated the expertise of the firm's Strategy, EGD, Lighting, and Design teams. The energetic and budget-conscious new scheme aligns with the Zwift motto, "Fun Powers Performance," inspiring activity and playfulness through references to the game. IA completed the project cost-effectively by highlighting the space's inherent strengths, harnessing the expertise of IA's own lighting team, reusing existing infrastructure, utilizing elements like paint and furniture (versus architecture) for big moments and spatial differentiation, and other strategies.

The adventure begins at the elevator lobby, where vivid hues and assertive directional lines conjure the excitement of viewing a Zwift route map. The use of applied color, via paint and environmental graphics, packs a big punch on a dime. In the main reception on level 21, for instance, an interconnecting stair clad in humble perforated-metal cladding is painted in a vibrant gradient of Zwift brand colors.

Each floor is themed according to a different color and location. Floor 18 nods to the nearby Belmont Pier via arched portals recalling amusement park tunnels and the phrase "Enjoy your ride." On floor 20, a series of LED-lit wood arches—made from cost-effective CNC-milled plywood—recall Fuego Flats, a virtual canyon based on American deserts. On floor 21, geometric wall panels and cloud-shaped light fixtures suggest Watopia Peaks, a fictional location inspired by the Alps.

Zwift's logo, Big Z, is prominently displayed behind each floor's reception desk. On 21, views from app environments are projected onto Big Z's surface; on 19, passersby can view their reflection in its iridescent copper surface.

In accordance with Zwift's mission to "make more people more active, more often," there are two gyms, one for employee recreation and another for testing and quality-control processes—the latter offering a behind-the-scenes glimpse (through a dichroic-film-covered window) of what goes into making the game.

A variety of work environments offers teams abundant choices: open collaboration spaces, private or shared offices, conference and phone rooms, and neighborhoods with workstations that can rotate for different configurations. Dividing the work and casual break areas, ceiling-hung perforated-felt screens with playful patterns abet acoustics and visual privacy to reduce distraction. Custom bike racks cap the end of each workstation cluster, instating separation from the circulation path while doubling as an art feature.
Design: IA Interior Architects
Photography: Garrett Rowland