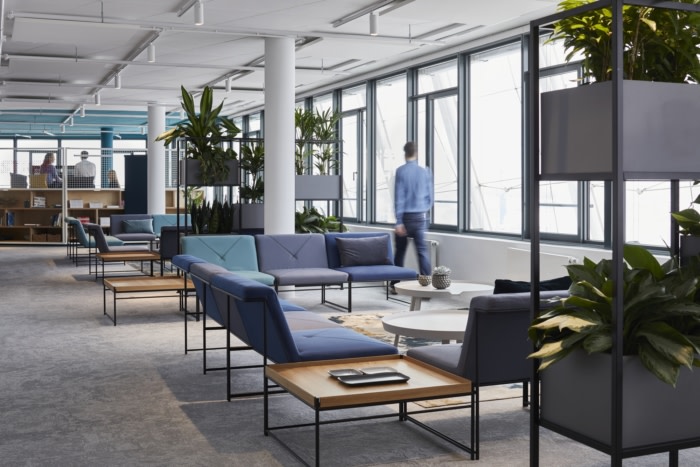 New Work SE Offices – Hamburg
Various work environments and amenity spaces give life New Work SE's Hamburg location, a multifunctional office designed to encourage employee development and synergy.
Sieber embraced the surrounding beauty, bright colors, and natural light to complete the New Work SE offices in Hamburg, Germany.
Our cooperation with NEW WORK SE started in 2016, when we were able to host their associated brand, XING E-Recruiting, for the first time in the Kaisergalerie project. We then developed and planned the offices of Kununu and XING in Zurich, Vienna, Porto, Munich and Berlin, as well as other locations within Hamburg.

We started thinking about assembling the individual locations in Hamburg early on. In 2018, we were commissioned to inspect the former Unilever Haus and to create an initial built-use concept.

Ultimately, when XING became a part of NEW WORK SE, it was clear that a future company headquarters would have to provide much more than just workplace for approximately 1,600 employees.

The result was The New Work Harbour, where "New Work" became our guiding force to conceptualize, and design varied work environments, with remarkable views to the harbour. Here, the multifunctional, agile Project Rooms are as essential as the Fitness Studio. Or the Harbor Beach Club, that provides casual workspaces and an opportunity to swing into the sunset. ⁠

Although the standard floors already offer plenty of variety, the top floor was entirely designed to cater to numerous scenarios for a collaborative and creative environment. ⁠The workbenches, think tanks, tee boxes and quick discussion areas set the floor apart.

The workday comes to an end with a drink at the Pub, a rehearsal in the Music Room or the lit-up view of the Harbour from the roof terrace.

In this project, the Sieber team was responsible for the conception and design of all work areas, for furnishing and support in the procurement of furniture in all areas. Additionally, we coordinated the move of the furniture and organized the relocation of the workforce from three locations to the New Work Harbour Headquarters.
Design: Sieber
Photography: Silke Zander