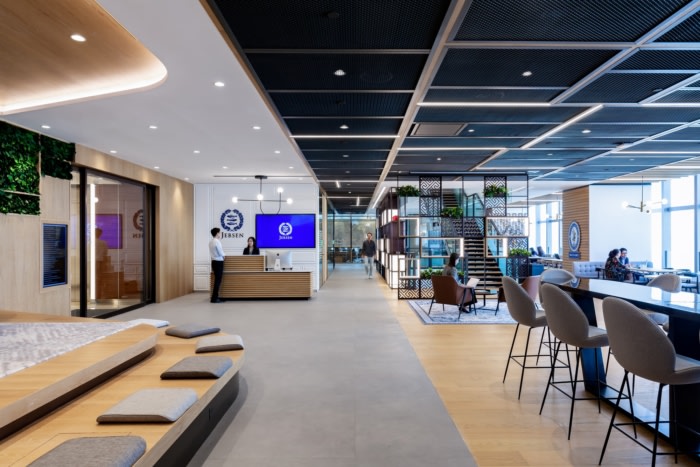 Jebsen Group Offices – Hong Kong
M Moser Associates was tasked with supporting entrepreneurial growth with a progressive workplace for Jebsen Group in Hong Kong.
Established in 1895, Jebsen Group builds and invests in a number of premium brands that bring new products, services and experiences to the changing consumer market in Greater China.

Jebsen Group has over 125 years of experience and aspirations for continuous growth. It needed a new workplace to celebrate its rich heritage, entrepreneurial spirit and premium brands. As a result, the space supports communication and flexibility, while expressing Jebsen Group's unique brand story.

At a glance
'One Jebsen, One space' – separate offices and brands are combined in one workplace over three interconnected floors.

Management offices on each floor provide access to leadership and support open communication.

Agile and multifunctional spaces offer variety and choice. They help connect all teams and business lines of Jebsen Group.

Open, expressive spaces
The new leadership wanted to encourage communication and initiative. So, we placed management offices on each floor with glass walls for an inviting and approachable atmosphere.

Also, it was essential to create a healthy and lively work environment. We transformed traditional settings into a modern workspace with agile, open plan workstations. The space connects vibrant brand elements with greenery, diverse seating and inspiring views.

A place for connection
Sweeping stairs help to bridge the gap between the three floors and their diverse business lines. Significantly, this supports a cohesive work environment for staff across varying brands and work cultures.

We placed community hubs, multi-functional areas and meeting spaces around the stairs. Discussion points on each floor encourage conversation and traffic. Overall, this vertically connected workplace increases collaboration opportunities.

An adaptable engagement space supports team meetings, conferences and company activities. Additionally, it supports other group-oriented activities that meet business needs. The space has movable wooden dividers that help to diversify its use. For example, when closed it supports private meetings/training sessions. When opened, it can host larger in-house events and discussions.

Merging brand and community
In the bar and town hall area, there's a multifunctional community space for brand connection, company events, socialising and town hall meetings.

Furthermore, we integrated heritage items to emphasise Jebsen Group's historic journey. Especially in areas designed for discussion or connection, such as the town hall.

An engaging, well-informed transition
In line with the leadership's vision, we hosted management discussions, co-creation workshops and town hall events. We held multiple engagement programmes with stakeholders. Overall, this enabled the workplace strategy and design to support business growth and nurture a new culture.

Above all, Jebsen Group's new workplace supports a collaborative, open work culture. One that inspires innovation and diverse working styles. A space that sustains Jebsen Group's heritage, while embracing its future.
Design: M Moser Associates
Photography: Harold de Puymorin