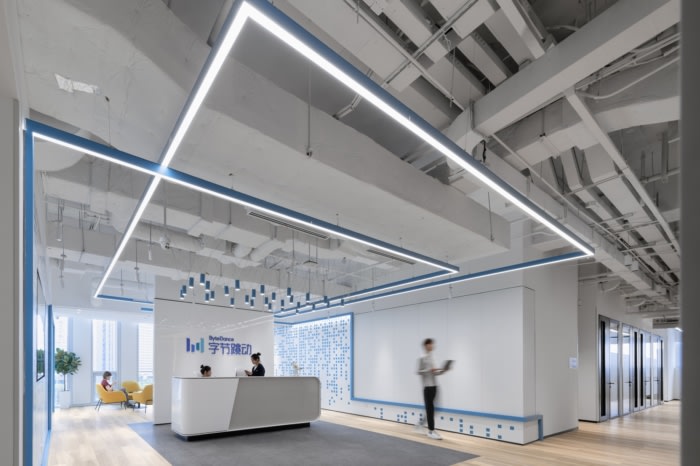 ByteDance Offices – Shanghai
iDA Workplace created a space with dynamic work options using natural light and thoughtful installs for the ByteDance offices in Shanghai, China.
The parent group of ByteDance, Douyin, Toutiao, Feishu, and other well-known online social platforms, adhering to the vision of "Global Creation and Communication Platform", iDA Workplace has designed a 115,000-square-meter office park in Shanghai's Caohejing Development Zone. With the design principle of taking into account both pragmatism and romance, we will create an exclusive Byte-style space for ByteDance.

Considering "Who is Bytedance?" as the source of thinking, the needs of the company's internal staff, Byte's technological core-artificial intelligence, as well as the compatibility of multiple cultures, we have created a Byte-style office space design. A byte is the constant repetition of 1 and 0, which we use to decorate its elements all over the space giving the viewer a variety of visual experiences through the continuous deconstruction and reorganization of elements.

Realistic romanticism, turning ideas into reality
Showing a pragmatic design style from practice, the first impression of entering the office space may be the use of colors, and then the multiple choices of office functions. Bright blue and white form the basic atmosphere of the entire space, which is simple to make people feel the attributes of a technology enterprise, and creates the same contextual atmosphere for employees from all over the world. Whether it's for working alone or in groups of different sizes, you can choose a private or open office space according to the situation. Create different work opportunities, and form an active and interactive office culture.

To create the romance of Byte-style, the office space no longer needs a design full of hard-core technology. Almost all public spaces can find the required service information through digital screens, with power sources wherever you need. It enables all employees to communicate efficiently and barrier-free, to explore and find the ideal social experience in the future.
Design: iDA Workplace
Photography: Highlite Images