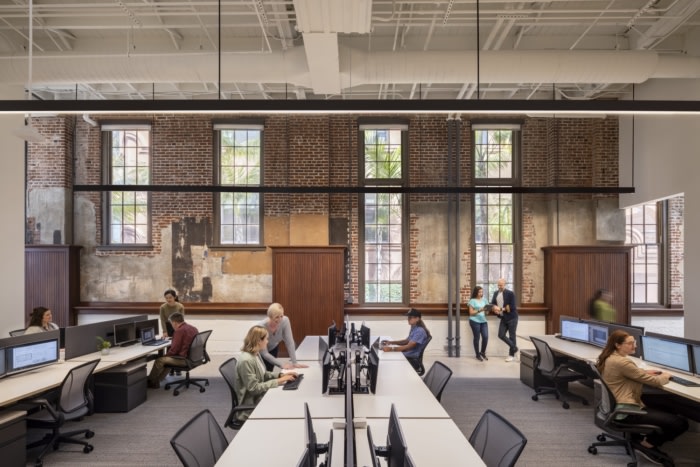 HGA Offices – San Diego
HGA designed a space to reflect both their own company culture and the surrounding influence in San Diego, California.
Located in the historic Mission Brewery Plaza, home of the first brewery in the U.S., designed in the Mission Revival style, HGA's new San Diego office strengthens a robust California practice, joining four other offices in the state — Los Angeles, Sacramento, San Francisco and San Jose.

The design features a simple sequence of spaces to promote a growing practice, organized into three areas: meeting, studio, and service. Visitors to the office enter a flexible, collaboration-focused space, free of a traditional reception desk. A glass wall with drapery separates the entry from a meeting space intended to receive guests and provide a place for teams to gather. Continuing past the meeting space, the studio is housed in a single open space, representing where everyone gathers to create "under one roof." The studio is open and voluminous, accented by functional pin-up walls and flexible furniture. Bookcases nestled under the pin-up wall house project and materials storage. Finally, the service area is separated from the studio with a series of enclosed spaces including phone rooms, a wellness room, and IT services. The kitchen is semi-enclosed and acts as a flexible meeting space meant to be activated outside of typical kitchen use. A back door exits to adjacent, landscaped outdoor space.

Sustainability and well-being were considered throughout, including the use of a minimal palette to limit the project's carbon footprint, thoughtful consideration of the material specifications to limit toxins, integration of local planting to support biophilia, height adjustable desks in the studio, and energy-efficient lighting.

The new workplace provides key functional elements with minimal architectural intervention, in order to retain the building's historical character. The design aimed to treat the existing building as an archeological site — maintaining the textural brick, exposed structure, and wood paneling that existed while strategically placing solid and void elements where they could serve the essence of their function. Critical alignments of glass and void are also used to create visual connectivity throughout the double height space and to allow natural light to permeate from the large exterior windows. A key moment is highlighted by the ribbon of pin-up wall in the studio that intersects the conference room and becomes the surface to provide technology — a visual representation of the analog and the digital nature of the practice of architecture.
Design: HGA
Contractor: Burger Construction
Furniture: Pivot Interiors, bkm OfficeWorks
Photography: Lawrence Anderson