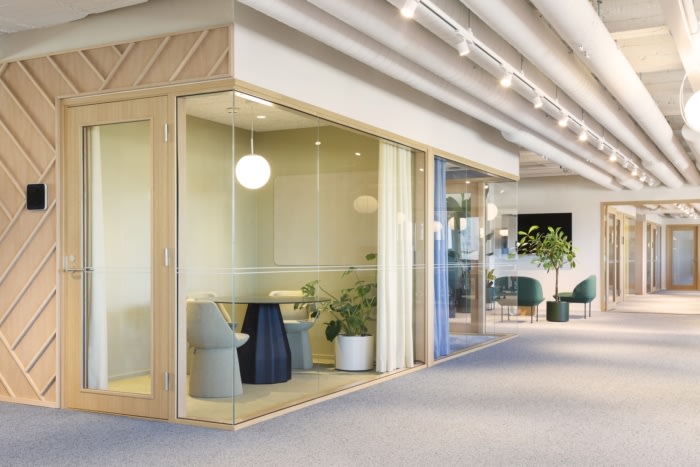 Supermetrics Office Expansion – Helsinki
Mint & More Creative combined a boldness and brightness using color throughout the meeting spaces at the Supermetrics office expansion in Helsinki, Finland.
Mint & More Creative designed multiple expansions to Supermetrics' downtown office in Helsinki to match their rapid growth and changing needs. The office was renovated from top to bottom to create a hybrid working environment that offers more opportunities for interaction and variation while still truly feeling like home for Supermetrics. The office has a colourful and park-like vibe that is distinctively cosy and comfortable, yet simultaneously bold and intriguing. Ultimately the aim is to create simplicity from a balance of colour and nature.

Supermetrics Vol 2-office builds on the unique and relaxed park-like vibe found upstairs in Supermetrics Vol 1 office, while adding new elements and functionality, to create a living and breathing environment. Mint & More Creative went all out to create a natural atmosphere that blurs the lines between outdoor and indoor space by maximising the flow of natural light, utilising tree-sized indoor plants, and creating custom-built secret garden pods that we hope to be overgrown with vines over time. In addition to the garden pods, many different types of nooks, pods and team rooms are dotted throughout the office.

Mint & More used colour boldy for aesthetics and function in Supermetrics' office. In addition to being enjoyable, the office needs to be functional and support work. Supermetrics' office design focuses on creating an environment that offers comfortable face-to-face interactions and variation to the workday with different types of spaces. This is how the office is able to offer flexibility and opportunities for privacy. Supermetrics' office has multi-purpose meeting- and team rooms located centrally throughout the work areas. To make sure the office is navigable for their growing staff, the rooms are colour-coded. As a bonus, it gives each room its own vibe.

Mint & More Creative designed the office for the office community. Community plays a big role at Supermetrics. When people enjoy spending time at the office, it encourages teamwork and builds a shared sense of belonging. Office environments compete for employees' time and interest, as people can work flexibly from home or on the move – tending to pick the most pleasant environment available. But it's not a one-size-fits-all solution nor solved with gimmicks. Every company's specific culture and working styles must be reflected in the design to make a place truly feel like their home. For Supermetrics, it's embodied by technology enveloped by vines, or by soundless wooden treadmills for walk-and-talks with great views.
Design: Mint & More Creative
Photography: Esa Kapila