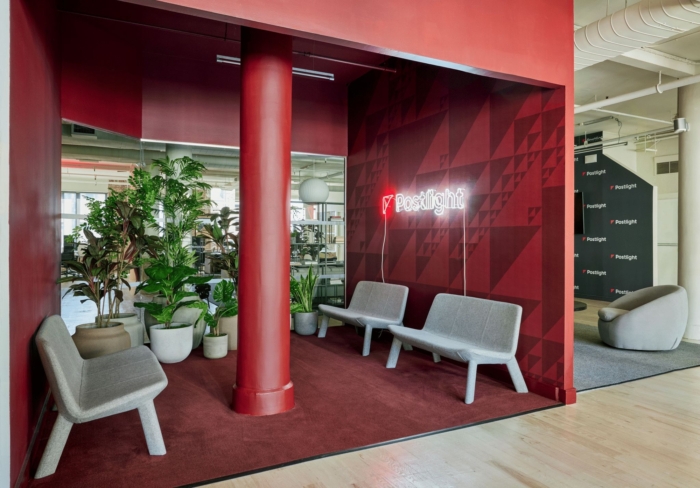 Postlight Offices – New York City
Gala Magriñá Design tells the story of Postlight's brand and history in the design of their offices in New York City, New York.
As more people are returning to the office for work, having a space that feels welcoming post COVID is an important goal for employers. With this objective in mind, Gala Magriñá Design wanted to create a functional, cool workspace for New York based tech company Postlight. The innovative remodel was designed to resemble a SoHo House, rather than a traditional office—a one-of-a-kind concept well suited for hosting events and workshops.

The Postlight brand story is told throughout the space with a warm-toned color palette that makes the space feel more refined. To align with Postlight's fun work culture, remixed vintage rock posters and neon signs were added as a playful touch to the open space. As native New Yorkers, the Gala Magriñá Design team made sure to respect the client's love of New York City, designing an office that works seamlessly with the old-school New York vibes of the existing building's exposed brick and wood floors.

The design team took advantage of Postlight's huge office space by including a glass enclosed cafe, an open kitchen area with a large island, three main seating areas in the main lounge, and two meeting rooms. These different areas allow every part of the office to be used as a workspace and a gathering place. For an added "wow" factor, the reception area was turned into a truly "Instagrammable moment," with a monochromatic color scheme and custom designed wallpaper.

True to Gala Magriñá Design's background in holistic interior design, the remodel of Postlight features a lot of plants, a layout that flows seamlessly, access to natural light, and colors that enhance productivity. Postlight's remodeled office is an inviting space that will make employees excited to come to the office everyday.
Design: Gala Magriñá Design
Photography: Christian Torres