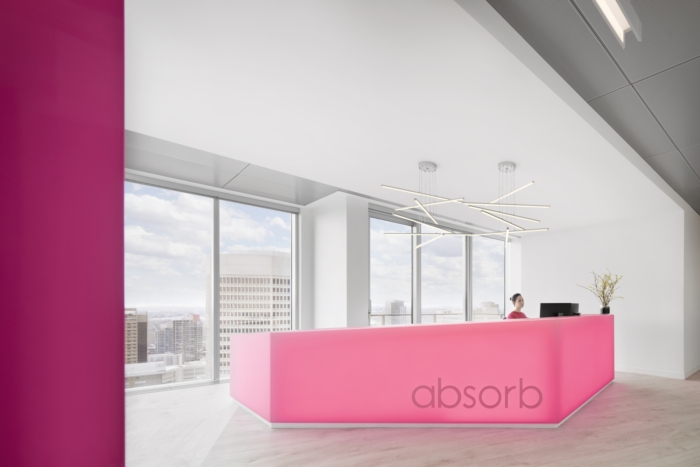 Absorb Software Offices – Calgary
A boldly designed, yet highly collaborative and connected space, Absorb's office delivers a 'live their brand' experience fit to inspire their Calgary-based employees.
Kasian Architecture Interior Design and Planning used bold colors throughout a functional workspace for the Absorb Software offices in Calgary, Canada.
Absorb Software is a global innovator in cloud-based learning management systems that has experienced recent rapid growth. The team works hard and plays hard, and CEO Mike Owens wanted to create an environment to reward his employees with a workplace that supports wellness and a social culture. We were engaged to create Absorb's headquarters in a new location, the landmark TELUS Sky building in Calgary.

The challenge was to design a space that enabled collaboration and social connection across five floors. Absorb also wanted to 'live their brand' boldly through the design.

We facilitated employee workshops to carefully assess the potential qualities of their new office. Technology, amenities, appropriate use of space, and creating a place that nurtures talent were all key considerations. This research informed an intuitive and friendly design that balanced work and play, and could evolve with the company's growth.

Absorb wanted their vibrant brand to be front and centre for everyone they welcomed into their office. We developed a brand strategy that used the corporate visual identity in an engaging use of graphics, and elevated both the visitor and employee experience.

The client's desire to 'live their brand' within the office space was achieved through a liberal use of the corporate colour palette's bright hues. As a wayfinding and brand strategy, a different colour was used on each of the five floors.

A variety of collaboration areas were created to support how work happens. Amenity rich community spaces with flexible furniture encouraged community and spontaneous interactions for work and play. There are areas for gaming and a place to watch favourite TV shows. We also created a chill lounge ― the 'no technology zone' ― to disconnect and recharge, as well as a yoga and prayer room. These amenities are strategically distributed across all floors to encourage movement and interaction between teams.

The workplace uniquely expresses Absorb's culture and creates an asset for their brand. Completed during the COVID-19 pandemic, we designed an adaptable environment in an unprecedented time, on schedule and on budget. The leadership team hosted a surprise virtual unveiling, and the staff were ecstatic about the space and looking forward to moving in. Absorb now offers a resilient, high-performance workplace to attract and retain top talent.
Design: Kasian Architecture Interior Design and Planning
Photography: Eymeric Widling Photography