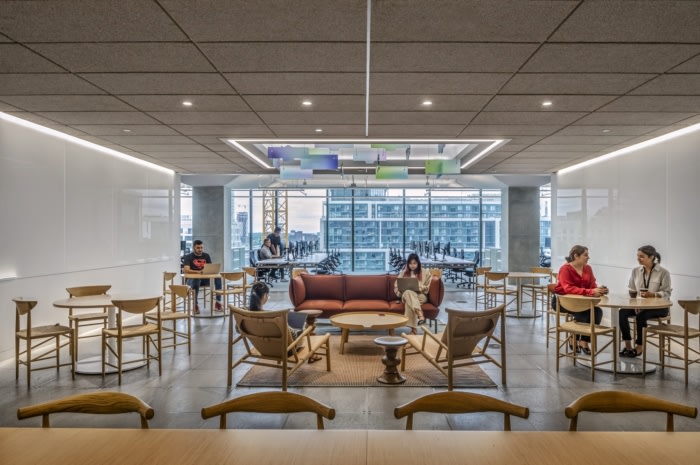 WPP Offices – Toronto
All of WPP's groups come together under one roof in the unveiling of their new 250,000 square-foot Toronto campus, a space to share creative opportunities and growth.
BDG architecture + design completed a dynamic office space for the WPP offices embracing the views of Toronto, Canada.
BDG architecture + design (a WPP company) recently announced the opening of its newest project – WPP's 250,000 square foot Toronto Campus. WPP is a creative transformation business and this new Campus brings together 28 of its operating companies that lived across 10 locations in Toronto to the Waterfront Innovation Centre at the iconic Sugar Beach. The building is part of the largest urban revitalization project in North America and the site contrasts between nature and industry bringing together new businesses, restaurants, and transport connections.

The project began in 2017 with BDG architecture + design as Lead Architect, responsible for the design and implementation of WPP's global workplace strategy, and HOK as the AOR. One of the main goals was to house all of WPP's groups under one roof to bring operating synergies and share and develop creative opportunities cohesively. In consolidating these groups into one new location, WPP developed an Agile Environment plan with unassigned seating and a neighborhood structure within the campus – allowing for greater flexibility, collaboration, interconnectivity, and creativity.

With 28 companies living under one roof, the design team spent time understanding their work culture, the essential bits of programme for their business, inter-company adjacencies, collaboration needs, client conflicts or confidentiality agreements, and workshops were held to establish the campus principles.

Significant collaboration spaces are planned on all four corners of the floor plan (from floors 6-9). These areas have high-top tables, benches, and lounge furniture with AV Ready collaboration walls. These spaces can increase the overall capacity allowing for 18% expansion if the Operating Companies grow.

Among the standout features (and one of my personal favorite aspects) is the curated art programme that features different Canadian artists, most of them from diverse minorities – a 'Salon Wall' with artwork from Canadian indigenous artists stands tall in the Cafe. Bold graphics and quirky branding layered throughout the space are a nod to Toronto's dynamic art scene. At the top of the interconnecting stairs between floors 10 & 11 there's a quilt that expresses the site's history and connects both levels.
Design: BDG architecture + design
Architect of Record: HOK
Photography: Justin Maconochie, Phil Hutchinson