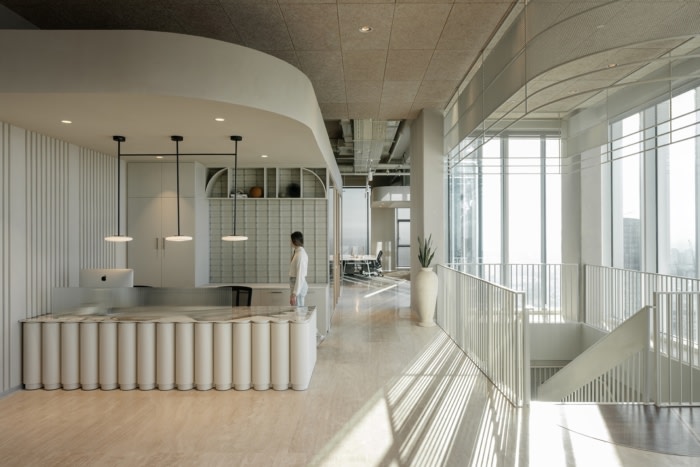 Papaya Gaming Offices – Tel Aviv
EN Design studio created the Papaya Gaming offices as a minimal and chic space in Tel Aviv, emphasizing a focus on a relaxing and supportive work environment that encourages creativity and productivity.
EN Design studio designed the Papaya Gaming offices as a minimal, yet chic space in Tel Aviv, Israel.
Nowhere (Neverland)
Everyone who lives in Neverland doesn't grow old,
In Neverland childhood is eternal and life as well.
You can get to Neverland by flying
"The second star on the right, then straight until morning"

This Quote from Peter Pan, was the main inspiration for papaya gaming offices.

One of the main challenges in this project was to change the mindset that a gaming company must look like a gaming company.

Designers are so used to seeing a direct translation of a company's activity on every related element – a perception of "the brand rules".

Papaya gaming CEO- Ariel, had a clear point of view that caught the design team attention- the fact that every workspace contains the company as an outward brand and also there is the heart of the company which are the employees- The people who come to the office every day do not have to live the external brand all day.

The space that was created gives an unequivocal statement that the customers of the current work environment are Papaya Gaming employees and they should feel that they have arrived to the most relaxed and pleasant place to work in.

A place that encourages them to be creative and have clean thoughts, a space that creates a contrast to the busy and intense daily routine.

At the planning level, the requirement was to create a dynamic space that could accommodate changes and movements within the company. This is where the design plan was born, the work areas are built from team's work yards surrounding supporting functions like meeting rooms and collaboration spaces.

The idea was that instead of changing the space, you can create an environment that would suit the movement of the various teams and alongside this there would always be plenty of supporting spaces that would allow work for short cross-team tasks.

The main feature in this project are the wooden glass partitions which delimit the teams work yards.

This was a development process with an Italian company that started with visualizations and a conceptual sketch and was originally planned to be done with artisan carpentry, but after several exchanges of sketches with the Italian team, we were able to produce a high-quality, acoustic and unique product that met all of the requirements.

As far of the design concept, this is the project whose title was "without compromise", the idea was to create an office that has a total look all around the space, which makes it so powerful in its interior experience.
Design: EN Design studio
Design Team: Smadar Rothschild, Ofir Malka, Michael Volovatz, Eran Naim
Project Management: Zory Lin
Contractor: Prashkovsky Pro
Photography: 181 Maalot | Gidon Levin