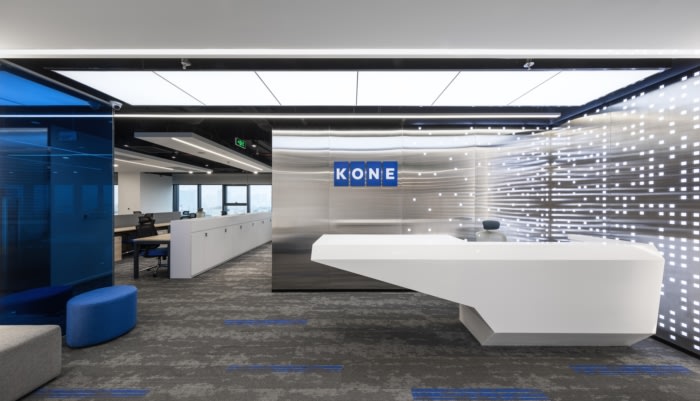 KONE Offices – Hanoi
APES designed a workspace for KONE to showcase the sophistication of their elevator brand in Hanoi, Vietnam.
New office is covered with warm decors such as wood grain table tops, grey tone carpets, and neutral lighting to create a pleasant cosy atmosphere. Plus the occasion dots of green plant in the office help to lift up the mood. Thus, it can improve the employees' mental health significantly.

Office reception area was inspired by KONE's signature elevator cabins, using inox materials on the wall with an LED lighting system creating a "halo" effect. The eccentric textures of the reception counter created by the solid surface gives the visual impression of a modern and high-tech space.

By prioritizing usage of straight, coherent lines, along with the black ceiling and eco-friendly materials, the design shows reliability and sustainability over time. Moreover, the crisp and clean ceiling system with rectangular arrays and LED lights run along the aisle's walls created a conventional division between the work zone and the hallway without giving off a stuffy feeling.

The common space placed right in the center of the office including a phone booth, a print area, the shared office, and a pantry. This area can be flexibly divided in many ways. When needed, the whole area can hold up to 30 people at once for group activities. Vice versa, it can be broken down into small private areas when needed. The flexibility of this layout and arrangement makes it become more enjoyably interactive experience for the people.

On the top of that, the meeting rooms were updated with the latest smart office's features such as wireless chargers, smart glass walls and doors, motorized curtains, automatical room light system. These can all be control via Ipads or smartphones to fulfill one's needs in a meeting. It provide the utmost convenience to our customers as well as represent the true spirit of KONE – always incorporate the leading technologies into our products.
Design: APES
Photography: Thien Thach Photo