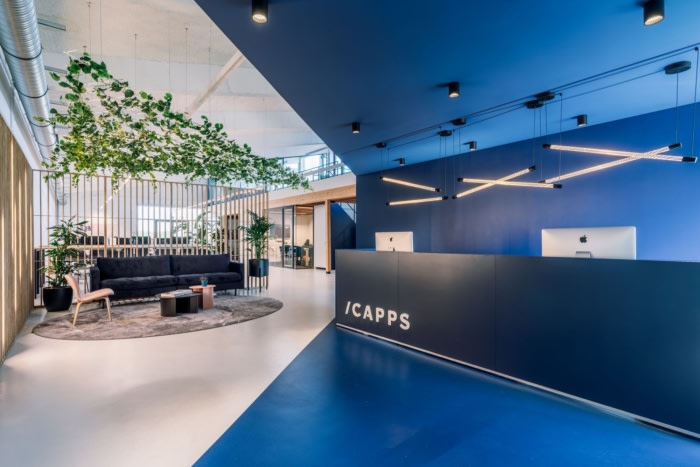 Icapps Offices – Antwerp
Space Refinery contrasted a natural light wood and a deep blue throughout the Icapps offices in Antwerp, Belgium.
Driven by a strong bond between its team members, icapps sets an example of an inclusive, modern company. Here's how we helped them create a workspace that reflects its outstanding creativity, open structure, and energetic team spirit.

The Challenge
During the pandemic, the Icapps team realized they needed to reinvent their space. The employees enjoy the flexibility and can choose if they want to work from home or the office. However, the management knew they needed to provide extra value to make working in the office attractive again and worth the commute.

They decided to redesign the office and enable the new hybrid way of working. They wanted to create a more efficient co-creation and collaborative environment but also offer spaces where people can focus. Additionally, they wanted to add more rooms for informal, non-work-related activities.

The Outcome
With over 100 colleagues, Icapps is a true example of inclusive company culture. Every team member at Icapps is equally important. To ensure we create a workspace that would fit everyone, we kicked off the project with a survey asking the Icapps team what's important to them. The results were clear: be with colleagues and collaborate efficiently.

One of the new things was the tribune, where they could share knowledge and connect in both work-related and informal ways. We also created an open kitchen, so the team can connect during their lunch break and easily catch up with colleagues. Considering the employees also need focus rooms, we added silent and isolated areas where Icapps team members could do their deep work without distractions.
Design: Space Refinery
Photography: Hannelore Veelaert