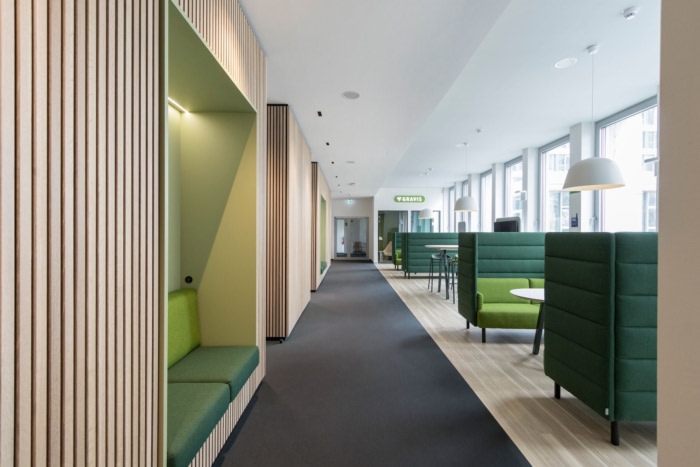 Gravis Offices – Berlin
Preussisch Portugal redesigned Gravis' Berlin headquarters to create future agile work structures, with additional meeting zones, creative areas, space for focused work, and areas of retreat.
Firm
Client
Gravis
,
size

30,139 sqft
Year

2023
Industry
FMCG
,
Preussisch Portugal was engaged by Gravis to design an innovative and team-focused headquarters in Berlin, Germany.
Preussisch Portugal redesigned the new Gravis headquarters in Berlin to respond to the changing workplace and create future agile work structures. With around 40 retail stores throughout Germany, Gravis is one of the leading Apple service providers in Europe.

In future, the new headquarter will become a meeting hub – the focus will be on exchange, innovation and teamwork. For this purpose, Preussisch Portugal created additional meeting zones and creative areas, but also space for focused work and areas of retreat.

Due to the existing monument protections and fire protection requirements, the greatest possible changes had to be achieved with small, targeted interventions. The objective was to create a central meeting place on each floor. The small, already existing communal kitchen on the 1st floor was transformed into a large communal area for lunch breaks and team events. The unused corridor space now serves as a creative zone for small workshops and spontaneous meetings. Most of the conference rooms were relocated to another building.

The office spaces on the 2nd and 3rd floor were optimised to create spacious areas for the tea kitchens. This creates additional space for meeting and communication. In addition, phone booths on each floor offer the possibility of retreating for telephone calls. A contemporary and ergonomic furniture system with a brand-typical colour and material concept creates a uniform look in the numerous office spaces.

In a separate building, which was previously used as storage space, three flexible conference rooms were installed. The partition walls can be used optionally to create either three small meeting rooms or one large conference room for over 50 participants. A fourth area is optimally suited for creative workshops thanks to a modular furniture system and large whiteboards.
Design: Preussisch Portugal
Furniture Dealer: Jacob Erikson, LUV Interior
Photography: courtesy of Preussisch Portugal