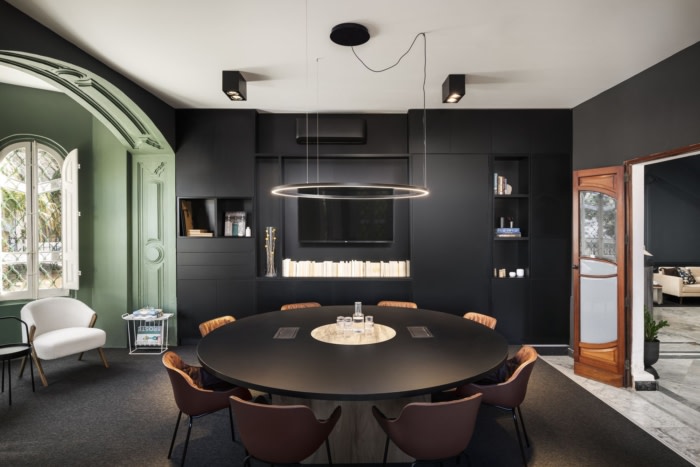 DAN Europe Offices – Ta' Xbiex
Angie the Architect was commissioned by DAN Europe to design their seaside villa administrative offices, enhancing the existing features with subtle lighting, monochromatic walls, and minimal furniture while conserving the building's architectural elements for future tenants.
Angie the Architect was sought out by DAN Europe to design their seaside villa administrative offices located in Ta' Xbiex, Malta.
Having selected one of the unique 1920s Ta' Xbiex sea-side villa's for its administrative headquarters, Dan Europe sought our services in developing an aesthetic proposal. The existing building reminded all of a trade past its heyday, through its beautifully elaborate architectural and sculptural details with little comparison in today's industry. These details muffled by years of uncoordinated maintenance, needed us to give them a voice while simultaneously aligning with the requirements of a present-day office, and this is what we did!

A combination of subtle light fittings, monochromatic walls, and minimal furniture were used to enhance the existing features. Washing the walls in deep blue and verdant green colours, boldly pronounces the building's ascension to contemporary times, while the routing of electrical services was cautiously rationalised in order to conserve the building's architectural floors, walls and ceilings for future tenants. Such was achieved by using a raised floor in the sunlit board room, which subsequently gave the room further distinction, complementing its meticulously restored bay windows. More ambitiously, a semi-circular reception composed within the building's dramatic foyer mimics the curved features above it, establishing it as a focal point and allowing electrical connections to run inconspicuously from planter to reception desk. Glass partitions at first floor allow the user to read the existing architectural proportions and rhythms inherent within the existing room, while providing privacy necessary for the contemporary office.
Design: Angie the Architect
Contractor: DAR Services
Photography: Ramon Portelli