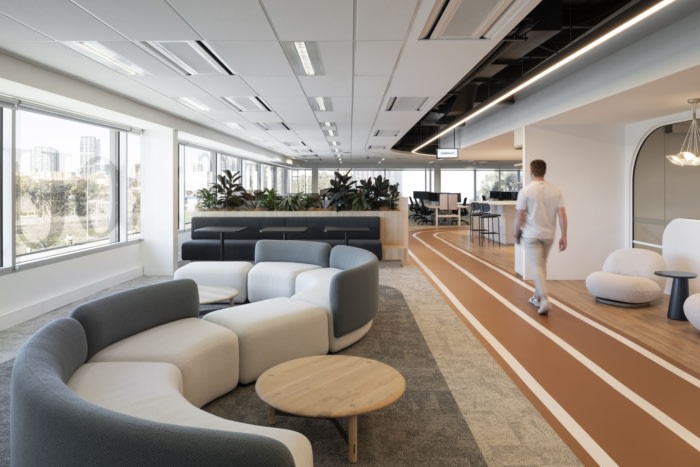 Compass Group Offices – Perth
IA Design created a modern and welcoming office space for Compass Group in Perth, focusing on uniting departments, promoting collaboration, and supporting staff health and wellbeing.
IA Design designed a modern and welcoming space for the Compass Group offices in Perth, Australia.
To coincide with their signing of a new long-term lease, IA Design was engaged by Food Services company, Compass Group, to refurbish their existing workplace at 12 Newcastle Street, Perth — and in-turn — reinvigorate and unite their workplace culture.

Previously taking up two non-adjacent floors, the Compass team are now consolidated onto level two and three of the building. With departments now united, staff can now work closely within their allocated teams and extend outside of them via a multitude of collaboration space options.

The introduction of an agile workplace culture means a large proliferation of lockers, hot desks, meeting rooms and other bookable spaces to support this busy environment running at an occupation rate of 75%.

As a company that actively promotes health and wellbeing and encourages intermittent activity for their staff, a walking track is featured on both floors for walking meetings or individual exercise. The level 2 walking track surrounds an enclosed staff breakout and a training room facility while on level 3 a generously sized café-style breakout and adjacent three-tiered, town hall assembly seating can be used for large team get-togethers, all-hands meetings, client entertainment, broadcasting and media-facing events.

A recruitment area on level 2 features a reception area, interview booths, assessment rooms and a drug & alcohol testing bathroom.

Working alongside Project Manager Bateup Consulting and Head Contractor Veritruss, IA successfully delivered this transformative, multi-stage project in the second quarter of 2023.
Design: IA Design
Design Team: Kelly Kow, Holly Vause, Katelyn Mehanikov
Contractor: Veritruss
Photography: Dion Robeson