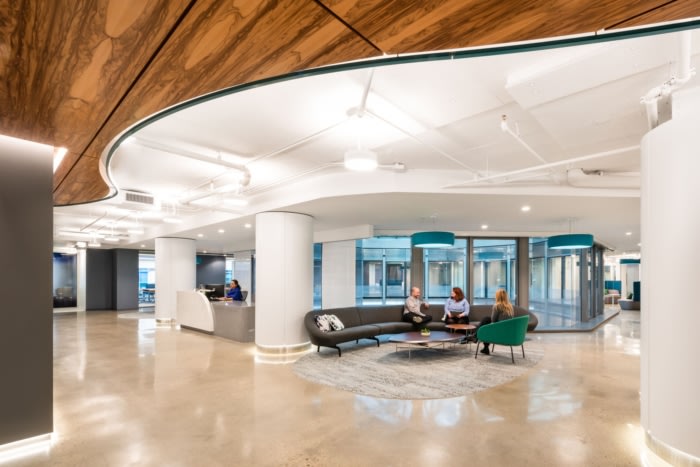 Biotechnology Innovation Organization (BIO) Offices – Washington DC
FOX Architects utilized curves throughout much of the Biotechnology Innovation Organization (BIO) offices in Washington DC.
Biotechnology Innovation Organization (BIO), the world's largest biotech trade association, expressed its desire for a new headquarters to be reflective of its mission and commitment to life-saving work. The design balanced focused workspaces with a series of community and amenity spaces, to enhance staff experiences and create a destination for staff to do their best work.

The design team executed a brilliant strategy by placing the multifunctional café, outdoor terrace, member lounge, and amenity event center around a central monumental stair that features a stunning DNA light fixture. This not only creates a striking focal point, but also optimizes the functionality and flow of the space. The team faced the challenge of maximizing the number of private offices without sacrificing open site-lines and views. To achieve this, they meticulously studied circulation diagrams to identify the most effective corridors between communal and focused work areas, which were transformed into interstitial collaboration zones. These strategically-placed "collaboration corridors" foster a sense of openness and allow natural light from the building's atrium to permeate the space.

The final design supports BIO's member organizations and anchors itself to the building's architectural aesthetic. Biotechnology harnesses the power of cellular transformation, a process utilizing infrastructure to create something new, expanding the possibilities of our world. BIO's new space approaches architecture through this microscopic lens, creating a space that is approachable and inviting for all.
Design: FOX Architects
Contractor: Greenman-Pedersen
Photography: Erin Kelleher Photography