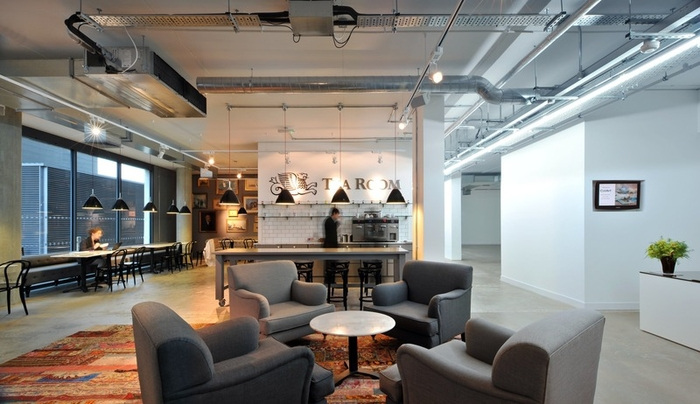 ColArt Offices – London
Art Materials company ColArt has recently moved into their new 25,000sqft London headquarters. Designed by Morgan Lovell, the office is meant to be a multifunctional space with its art gallery, tea room, product shelving area, open office space, and meeting rooms.
Because of the artistic nature of the company, there are many 'artsy' elements throughout the office like wall graphics, colorful accents, and of course an art gallery that displays work from local artists.
The office has a number of conference rooms which accomodate meetings of various sizes. Workspaces are open plan and located near windows, with the support spaces located near the interior of the buildings. The look-and-feel of the space also has a raw art studio vibe with its cement floors and white walls
One unusual space to see is the laboratory where I notice that lab workers are outfitted with standing height tables and taller stools. Would be interesting to see a non-lab environment equipped similarly.
Design: Morgan Lovell
Photography: Philip Vile