9 Inspirational Open Office Workspaces
If you're anything like me, you love looking at photos of large open plan office spaces. For some reason the symmetry of the repeating desks, lamps, chairs, and rows is really pleasing to the eye. I work in a small 4-person office, which is technically an open layout, but if you saw a photo of it it just wouldn't have the same effect.
While I do understand that open plan workspace layouts are not for every person, every company type, or every office – but whose to say we can't look at some inspiring photos of them? Here are a few of my favorites, which for the most part are larger applications of open plan design. Enjoy!
Aeria Games
Berlin-based gaming company Aeria Games uses a large, light-filled open office space for their main work area. Rather than using prefabricated desks, the company opted to fill the space with over hundreds of custom tables. Adjacent conference spaces are available if the need arises. (full tour here)
Hudson Rouge
Luxury brand advertising agency Hudson Rouge uses a bright, open plan office space. The designers explain of the space, "The main workspace is an open-plan studio focused around formal and informal meeting and collaboration areas. The design allows maximum daylight penetration into the open studio through unobstructed views to the north, south and west. Even office and team rooms transparent are enclosed with frameless glass fronts, leaving clear sightlines to the rest of the office. In combination, the open workspace plan and expansive views evoke the sense of ideation and visioning that is essential to Hudson Rouge's creative aspirations." (full tour here)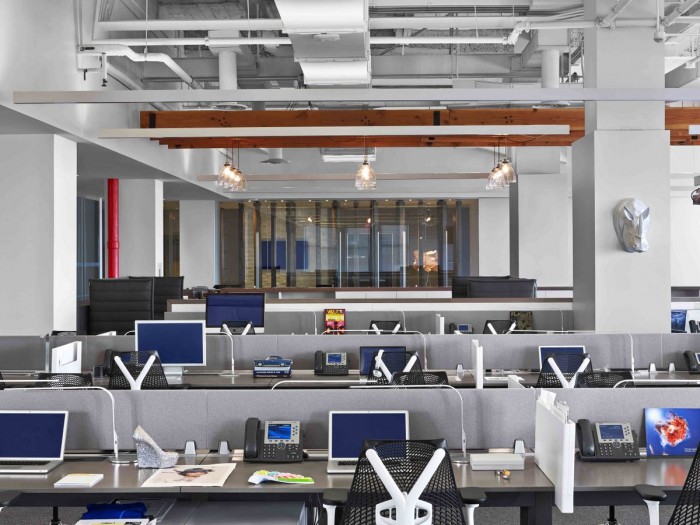 Clif Bar
Housed in an old WWII-era manufacturing facility, Clif Bar has replaced the manufacturing lines with an open plan workspace. Windows located throughout the ceiling give the workspace a biophilic design by keeping the outdoors present for staff. Also feel free to notice the bicycles floating around the room. (full tour here)
Hitachi Consulting
I love the look of open plan workspaces, but those found inside of Hitachi Consulting's London offices definitely win the competition for epic views of the Tower Bridge. The office also opted for a non-linear workspace layout to aid the company's goals of flexibility and collaboration.  (full tour here)
Kixeye
San Francisco-based gaming company Kixeye has a much smaller scale open plan office space for its team. To mitigate noise the design includes echo-reducing panels on the ceiling as well as offers company-provided headphones for staff. Collaborative whiteboards are also nearby to help employees work together. (full tour here)
Economia
Economia is a Czech newspaper and magazine publishing company. The design cleverly adds fun elements like huge letters to create some whimsy as well as to break up the space. The office space uses a gigantic open office layout that spans nearly 20,000 square feet. You could really fit a lot of JP Office Workstations into an open office space as big as we see below. (full tour here)
One Workplace
One Workplace is a furniture dealer that uses their office as both a workplace and showroom. The 25,000 sqft open plan warehouse gives the company the ability to show off the latest styles of design and test out what works in a real workspace, which helps enhance their services to customers. Plus, they have a stacked boomerang tower that dominates any other office feature I know of. (full tour here)
Scopely
Culver City-based mobile entertainment company Scopely utilizes an open plan, but chose to do it in a non-uniform fashion. The designer explains, "In regards to the furniture plan, Scopely felt strongly that the desks be laid out in a non-uniform fashion and that we accommodate as many of their 85 employees as possible on the main floor together.  We were also tasked with making the main work area "cool" as it would be the place where employees would spend most of their time.  We chose to lay out each row of the desks in a unique "S" style layout and designed steel and marble Dandelion Lamps to be scattered down each row." (full tour here)
Stone Harbor
You can't really imagine an epic room like the one Stone Harbor uses for their open plan workspace until you see it. Look at those lights. Look at those windows. I don't know if I could get any work done because I'd spend all say looking at airplanes and birds going by outside.  (full tour here)