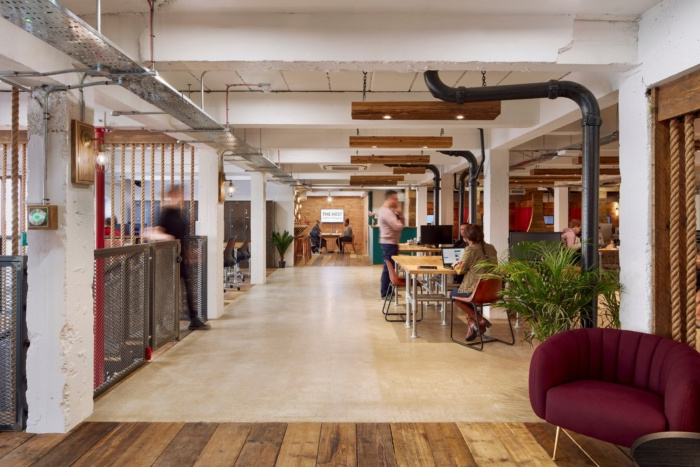 The Nest – London
Gensler designed the offices for the Nest located at Cherryduck studios in London, England.
A striking, architect-designed, creative co-working hub called The Nest has just opened in Wapping, near London's St Katharine Docks.

Designed by architectural and design practice, Gensler, the 8,000 sq ft co-working space is pitched at boutique post-production and production clients, and was commissioned by photography, film and TV production company, Cherryduck.

With the surge in demand for digital content, the explosion in the number of TV production companies and London's wealth of young creative, post-production talent, Cherryduck saw that there was an increasing demand for affordable creative production services in the area. They turned to Gensler, who are close neighbours, to help them create this exclusive co-working hub – a space that celebrates their east London community and ultimately offers a one-stop-shop to cover all their clients' needs.

Gensler's nimble design team worked with the family-owned business over a ten week design period, taking them through the process of how to make the space they had available an attractive, functional and successful co- working space. Wapping and the local area quickly became a big influence on the space. The history of the dock yards can clearly be seen through the use of ropes and natural timbers reminiscent of the area's historical maritime trade. By tapping into Gensler's experience with similar, fast-paced projects, such as Level39 and Tech Hub, a variety of spaces were designed to meet the needs of a creative worker, including meeting rooms, collaboration spaces, 12 editing suites, audio studio, reception bar and even a fun fireman's pole – allowing workers to quickly get from one floor to the other.

To meet this desired look and the budget, the Gensler team needed to be resourceful and creative, using existing materials already on site as much as possible. This included reusing old scaffolding planks used during construction for flooring, cladding on the walls and also for certain bespoke joinery pieces created for the space. Even old structural concrete beams knocked out during construction were retained and used to make bleacher style seating. This emphasis on recycling allowed the project to be completed for just £40/sq ft while still remaining true to the fabric of the building.
Designer: Gensler
Photography: Mark Cocksedge