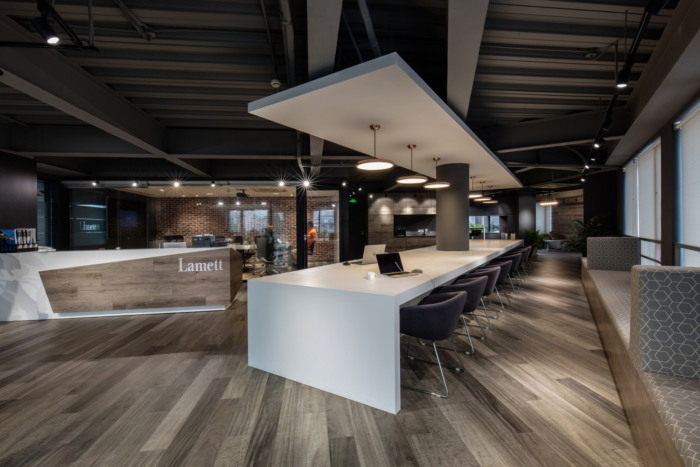 Lamett Office – Shanghai
Lamett's flooring can be found throughout their new Shanghai offices with material extending from the floor to the walls and cabinets to showcase the product's versatility and flexibility.
HQGK Design completed the offices for flooring brand, Lamett, located in Shanghai, China.
Belgium's Lamett is a flooring brand renowned for innovative products that are sustainable, technologically advanced and cleverly designed. They are a global trendsetter in both wood and laminate flooring with sales and manufacturing operations in Belgium, China, the United States, Russia and the United Kingdom.

For the Shanghai office the designer focuses on the main concept of environmental protection using wooden floor, red brick and gray tones.

The office features a long table with a side sofa set, an open communication area, and a space that promotes flexible teamwork for the employee.

The flooring comes from Lamett products selection. The product extends to the walls and cabinets to demonstrate its flexibility and to immerse the visitors in a rustic environment that connects modernity and nature.
Designer: HQGK Design
Design Team: Kevin Lin, Julian Zhu
Photography:  Sam Wang