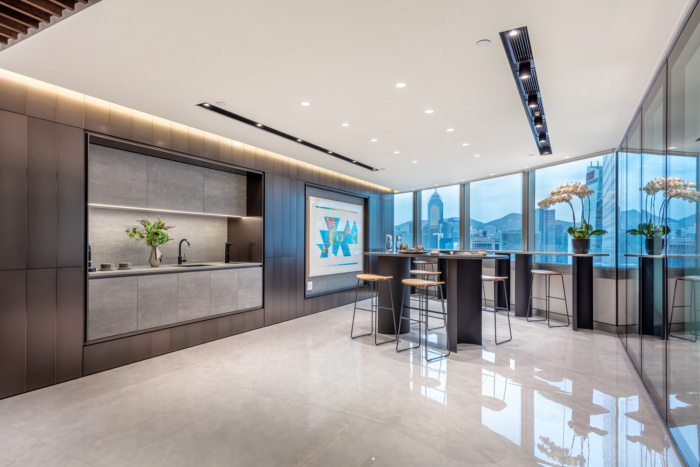 Investment Management Company Offices – Hong Kong
in-between architects completed the build and design of a global alternative investment management firm, located in Hong Kong.
The concept began with the idea to blur the boundary between daily work and living, and how to utilize the open atmosphere for a variety of events. Admiring the spectacular view of the Hong Kong waterfront, we want to create a space for sharing ideas, experiences and the wealth of expertise this firm represents.

With the advancement of technology, our society is changing more rapidly and with greater complexity than ever before. We focus on creating spaces which encourage individuals to be innovative and not confined in their dreams. Sense of space and mindfulness will take a major role in upcoming architecture and interior design.

Both client and architects have the common interest to take away traditional reception from the scheme in the very beginning. Guests enter the office immediately find themselves in a long gallery consists three major components – a sculpture shelves, a stone pantry integrated into the long metal wall and a niche showcasing artwork selected by the founder. Movable partitions that separate the meeting room from gallery can be opened up for events such as cocktail, press conference, fireworks watching during new years eve, seminars and the house tradition of 'ping pong tournament in the kitchen'.

Hard surfaces such as wood slats, stone tiles and metal sheet are well balanced by wall fabric panels for acoustic reason. Material corners are well designed to protect the walls from being scratched by hand-carries of collaborators who are all frequent flyers. Wall systems are well considered to provide both privacy and transparency, allowing everyone to enjoy the magnificent harbour view. Architects focus on designing a timeless work not only in terms of style and also durability.
Design: in-between architects
Design Team: Ivan Wong, Lillian Lin, Christie Chu
Photography: Dick Liu