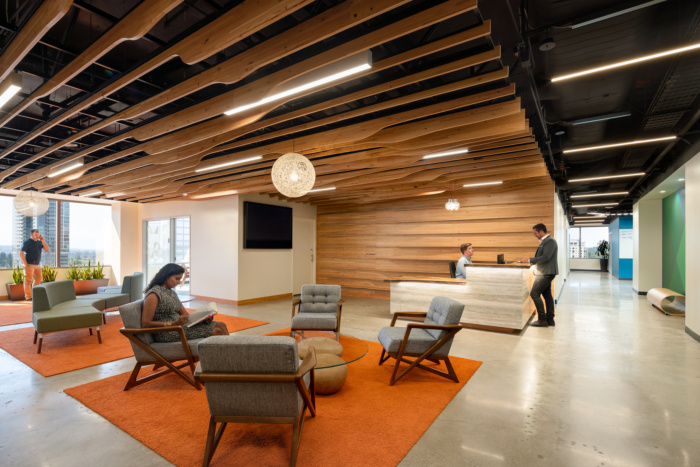 VMware Offices – Bellevue
Valerio Dewalt Train designed the new VMware offices to adapt to their growing needs in Bellevue, Washington.
Valerio Dewalt Train renovated the top two floors in a downtown Bellevue office tower for VMware, a fast-growing technology company. To reconnect the office space, an existing, unattractive stair that divided the floor, was redesigned. Wood elements flow down the circulation paths and connect through the stair to the floor above. The wood is reclaimed, which supports the client's commitment to sustainability and the state of Washington's important history in lumber production.

New collaborative and mobile seating is positioned near the core. This allows the path to meander around the perimeter to various programmed spaces, all of which benefit from
natural light and views. Workstations, meeting rooms and quiet areas occupy the lower floor. The unique approach to materials, relationships of the programmed spaces and furniture solutions creates an exciting new space.
Design: Valerio Dewalt Train
Photography: Andrew Pogue