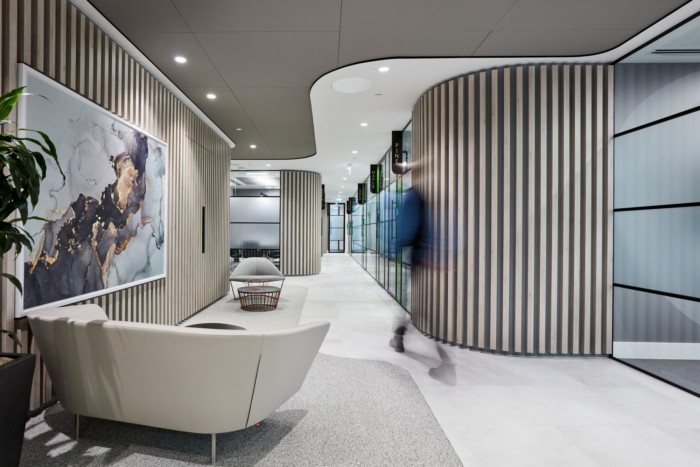 MHA MacIntyre Hudson Offices – London
Collaborative spaces, stronger brand presence, and a client-first strategy define MHA MacIntyre Hudson's new offices in London, a workplace to inspire the firm of individual tax accountants.
AIS has realized the office design for MHA, a firm of independent accountants and business advisors located in London, England.
MHA is an association of some of the best business advisors, chartered accountants and tax experts who work in partnership with clients ranging from individuals to large multi-national corporations. Having recently undergone a re-brand, their executive team was looking to find a new workplace design partner that could positively showcase their new brand, but also one that they trusted with influencing positive cultural change, encouraging collaboration and contribute to their staff's overall wellbeing.

Moving to one of the most prestigious commercial destinations in London, the recently redeveloped 2 London Wall Place provided inspiration for our design concept which sought to continue the sympathetic vernacular of the site where rigid architectural lines are contrasted by curving bridges which thread their way through the development.

A core focus of the MHA re-brand was generating focus on their 'client first' strategy and our design team manifested this in creating a show stopping reception and client suite. The space features a wave like ceiling detail that plays off the original concept of the 2 London Wall site and leads visitors from the entrance to the custom designed reception desk, client tea-point and client suite. Made up of a collection of meeting rooms, each connected by folding walls making them flexible enough to accommodate meetings for 4, boardroom style meetings and even big enough to accommodate dining settings for entertaining clients.

Pocket of collaboration space are spread throughout the open plan working areas, allowing staff to enjoy a variety of work settings to suit their individual and team needs. These spaces are defined by sound absorbing feature ceiling panels which allowed the space to be kept open in order to maximise the flow of natural light through the space.

The office is split between two floors, connected by a feature staircase the dimensions of which were carefully proportioned in order to encourage passing social interactions. The main tea point was placed on the upper floor in an effort to engage people to move across floors and thus creating a vibrant hub. Here the large open plan kitchen, banquet seating and large family sharing style tables further facilitate interaction and bring people together in a comfortable and relaxed setting. The adjacent lounge area creates further informal workspace where staff can work agile on sprawling sofas or café style seating.

Stronger brand presence was created through the use of a refined materials palette featuring warm oak timbers and monochromatic surfaces, mixed with accents of the company brand colours that inject an element of vibrancy. The overall energy of the space is sophisticated and serene which combined with the company's new branding will help see the MHA business to a stronger future.
Design: AIS
Photography: Tom Fallon