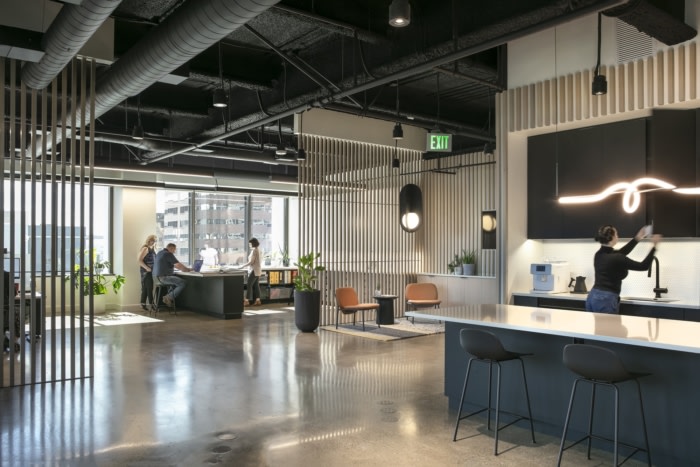 DESIGN+BUILD Workspace – Portland
Designed to house a growing team within 4500 square feet, DESIGN+BUILD Workspace has a new hybrid work model to showcase their project work Portland.
DESIGN+BUILD Workspace created a space for their offices that would give dynamic opportunities for any type of work in Portland, Oregon.
We were tasked with designing a 4,500 square foot space to house a growing team while allowing for heavy collaboration and showcasing project work. We worked with the whole company to create a space centered around the kitchen and break area in order to increase inter-departmental interaction. This split the open office into two sides: one side which is reserved for heads-down work and the other for collaboration. We built out an expanded materials library for design and construction teams to reference, several touchdown points for field employees to visit, and a variety of meeting spaces to support a hybrid work model. The material selection started with existing casework that was to remain, determining the resultant monochromatic palette with warm white oak slats that define the central social area.
Design: DESIGN+BUILD Workspace
Design Team: Maddy Mackin Freeman, Erik Larson, Daniel Snair, Jeffrey Snair, Robbe Abell, Tony Streeby, Ashleigh Lessard
Photography: Pete Eckert