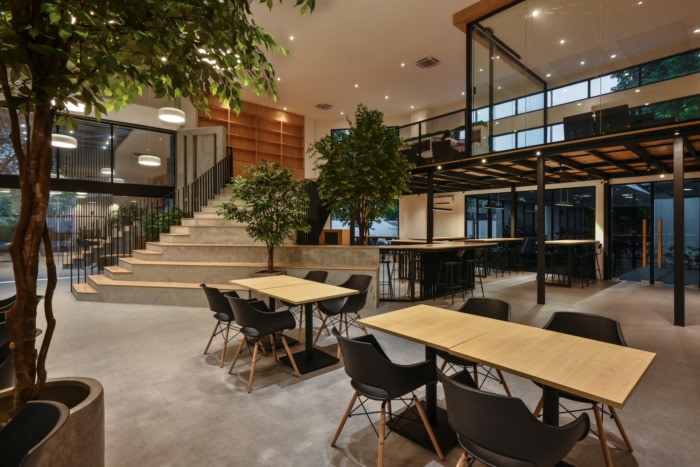 Glow Production Offices – Petaling Jaya
Archiplan Interior Design created an open, yet warm space for the Glow Production offices in Petaling Jaya, Malaysia.
Glow Production is a digital game development and cinematic animation studio in Selangor. The overall concept was to create a working space where going back to the office feels like a 'retreat' in the heart of KL's metropolitan concrete jungle. We focused on creating a soothing visualisation of natural space with minimal man-made constructions, where one can focus on work without overwhelming pressure. Ground floor lobby and cafeteria is designed to mimic a "park", created with elements that can be found in a park: trees, steel fences, wood and stone (concrete). With the staircase being the focal point of all social activities and events, accommodating several purposes: seating, bar height table, and walkway. Sunlight is brought in with the application of glass roof at the corridor or meeting room and gym. Main entrance wall is slanted to catch the attention of all who enters from the main gate. Cafeteria is design to have different heights of tables and chairs for lively social and working environment. Upper floor office is also done with natural materials and colours to create a toned down environment, with the highlight of a circular shape discussion room that has a cat room underneath, using a curved clear acrylic partition for an easy glance into the room. Plywood panels and cabinets are left bare, and cement-looking vinyl is selected for floor.
Design: Archiplan Interior Design
Design Team: Nelson Yeoh, Juliana Ong, Lydia Khoo, Kitson Chong
Photography: Gavin Yam