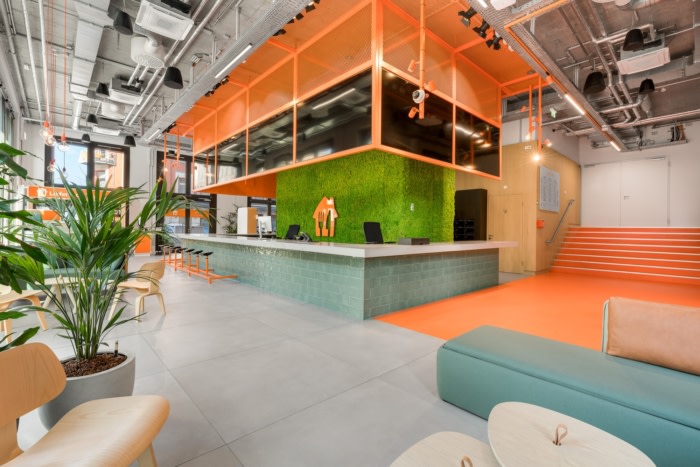 Takeaway.com Offices – Berlin
Mirato designed a welcoming and fun office for Takeaway.com located in Berlin, Germany.
The Just Eat Takeaway.com (JET) Berlin HQ is located right on the waterfront of Kreuzberg, overlooking the vibrant city and magnificent Oberbaumbrücke. Three brand new interconnected office towers and a build-out wintergarden house over 1.000 employees. Mirato was commissioned the complete interior design of the new office colossus. JET connects consumers at home with restaurants.

Mirato translated the company's essence into the office layout. The orange pathway (JET) connects low stimulus workstations (home) with the vibrant core of the building (restaurants).

The complete ground floor is designed to connect, meet, create, and mingle.

A multifunctional wintergarden connects the stunning courtyard to the office block, which functions as a green oasis that enriches the entire building. This space full of light, greenery, and atmosphere serves as a break-out area where people can meet each other and relax.

Office floors are equipped with brainstorm areas, phonebooths and informal meeting spaces.

To enrich the design with warmth, the core is cladded with oak wood, contrasting with the structural concrete columns and ceilings. It gives the space a nice balance between a raw and sophisticated appearance, which represents the upcoming neighborhood in Kreuzberg.

The assignment was to design a flagship office to attract talent, work, meet, and relax but also serve as a stage for marketing purposes and carrying out the brand essence. Clean sightlines, wood, lots of green and light color palettes are applied to soften the contradiction with the powerful orange brand color. Modular construction and flexibility are key in the design, enabling JET to adjust the interior to the needs that come with high-paced growth.
Design: Mirato
Photography: Ruben Visser, Olga van Dijk