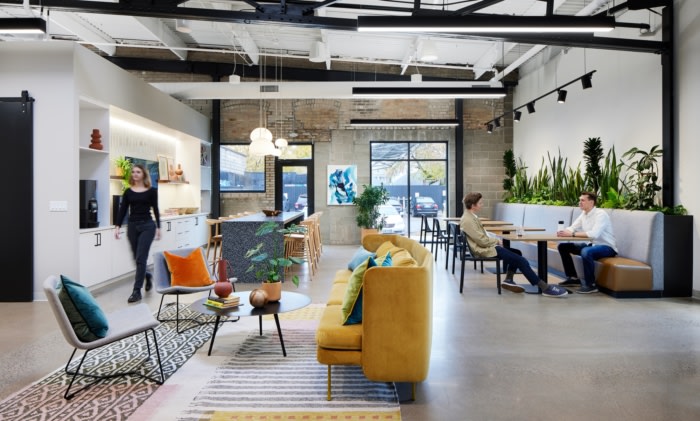 Alight Offices – Minneapolis
In efforts to communicate the beacon of hope Alight has to offer, their new Minneapolis-based office features a dramatic transformation of light, color, and reflection throughout the day.
Studio BV designed an industrial space with playful elements at the Alight offices in Minneapolis, Minnesota.
A Beacon of Light and Hope
Alight serves as a beacon of hope and a guiding force for the people that they serve. They are a bright spot amongst the darkest of times. They provide openings and opportunities for people where there weren't any before. Alight is providing health care and clean water, shelter, protection, and economic opportunity to more than 3.5 million people in 19 countries each year. But in solidarity with the people we serve who are too often defined by a single dark moment in their lives, they dropped the label 'refugee.' Alight sees and helps every person make meaningful change in the world – from displaced and marginalized communities in Africa, Asia and the Americas to…anyone, anywhere.

Alight exists to inspire and unleash the abundance in every person.

They build a meaningful life for and with the displaced. When they find people displaced from their homes, countries, or lives, our instinct may be to focus only on their basic needs. And that is essential. But it's also not a life. A life is filled with joy, dignity, connection, and purpose. And that's what we aim to build.

Overlaying colored graphics and brand patterns to the space provide a dramatic transformation of light, color, and reflection throughout the day, symbolizing the powerful work of the team. In contrast to the color and light beacons, the rest of the palette remains neutral and warm, providing a comfortable and restorative environment for the team. This was a Studio BV Design Forward project. Design Forward is a division of Studio BV that works with nonprofit organizations by doing design work pro-bono. Design Changes Everything.
Design: Studio BV
Contractor: Mission Construction
Furniture Dealer: Atmosphere Commercial Interiors
Photography: Corey Gaffer