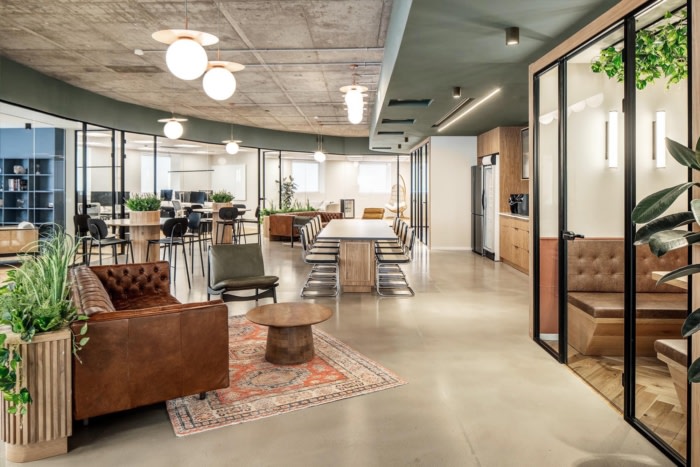 Popcorn Offices – Tel Aviv
ON Studio designed a modern and warm space for startup Popcorn at their offices in Tel Aviv, Israel.
Popcorn is an Israeli start-up company of young staff member wanting to create a functional office that connects people through space.

We met the customers for the first time in the field, standing in front of a completely destroyed office building that soon became a clean envelope of walls, ceiling and concrete flooring, a semicircle shape with view of all Tel Aviv and the sea.

While distilling the essence for planning and design, the concept that emerged was connecting and creating encounters of different kinds. The plan we decided on was to place the work areas in the perimeter of the office, in a rounded way – so that all the teams can feel together even though they are in different rooms, there is communication between them.
The central space, the core of the office- about 50% of the office area- was designated as a gathering area, for team members to sit together as a large group or in small groups of different numbers.

The term coined for the central space was "the square". The idea was to preserve a feeling in this space as open, with the ceiling and floor left bare in order to enhance the urban and industrial feel. The space consists of a variety of seating types suitable for the gathering of the whole company or informal conversations and personal meetings in the style of lounges, phone booths, high bar seating and one large table designed for shared lunches around one long table.

The primary issue of comfort and functionality was the central value that guided us in choosing the furniture, planning the carpentry and managing the space.

The design style and the atmosphere of the office combines a world of warm, colorful materials with deep textures and exposed concrete, glass and modern aluminum partitions.
Design: ON Studio
Design Team: Ori Dunetz, Noa Solomon
Contractor: Amot
Furniture: Waxman, Pick Up
Photography: Peled Studios | Yoav Peled