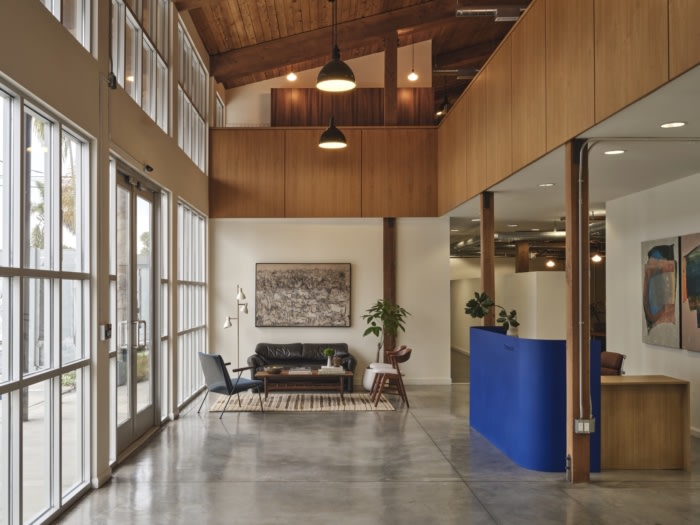 Cartwright Offices – Los Angeles
Stilo designed a warm and welcoming space for the Cartwright offices in Los Angeles, California.
Cartwright is a full service creative agency whose principle goal is to tell un-ignorable stories for brands – we call this 'creative audacity'. The 3 year old agency is also a 3 times winner of Ad Age's A-List awards rankings.

Stilo Interior Design Studio founder, Theodora Esparza worked in close partnership with creative advertising agency founder, Keith Cartwright to design Cartwright's first physical space.

Having launched Cartwright in the month prior to pandemic lockdown in early 2020, the agency had spent 2 years working remotely. When the team finally assembled in person in 2022, it was essential that their working space could accommodate the new post pandemic hybrid way of working enabling collaboration, mentorship and fostering a sense of community and culture.

When exploring spaces to create their first home, Cartwright focused on planting its roots in Venice, Los Angeles – a city infamous for its eclectic community and counterculture. The mid century, two storey building on Lincoln Blvd stood out to leadership because its raw state exuded a sense of warmth. The structure has an exposed wood A-Frame ceiling with double height windows on the west side, allowing the California sun to cast a glow through both stories.

Stilo was tasked to design a space that fostered collaboration and created a sense of community in a way that felt authentic to the Cartwight agency. Being inspired by the building structure, Stilo looked to layer in neutral materials in a variety of textures; with smaller moments of unexpected color to spark a sense of joy and playfulness. The Stilo team sourced vintage pieces by Vico Magistretti, Wim Rietveld and Jean Pouvre as their iconic designs are not only extremely comfortable but visually pleasing. We also partnered with a local studio to source architectural plants to bring in green in an artful way.

From a programmatic perspective, it was important to create a variety of working spaces so that employees could choose how they want to work. After spending years working remotely, employees have had lots of choices on how and where they work, therefore we wanted to create options into the space. We achieved a variety of working spaces with a mix of open plan working space on the upper level for in person collaboration and a series of meeting rooms and break out spaces on the lower level for more structured working sessions, client meetings and team interactions.
Design: Stilo
Photography: Madeline Tolle