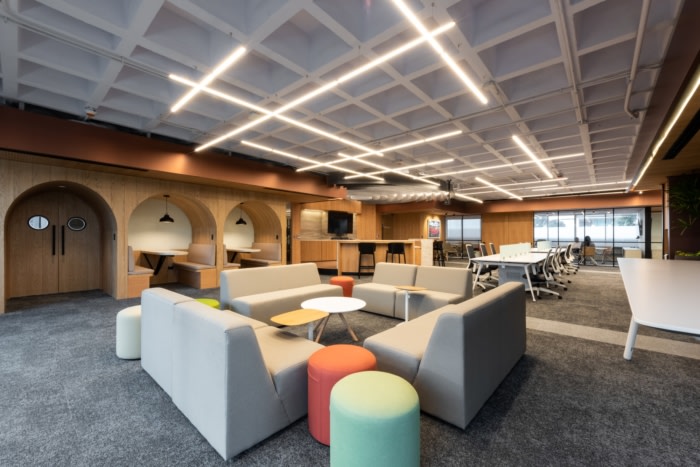 Fuentebuena Offices – Monterrey
The offices of Fuentebuena, a technology company in Monterrey, feature flexible and collaborative workspaces, a multi-purpose amphitheater, warm materials, and accents of vegetation to create a home-like atmosphere.
Jose Lombana Arquitectos integrated architectural elements seamlessly into the Fuentebuena offices in Monterrey, Mexico.
Corporativo Fuentebuena is an interior design project designed for a technology company that offers financial solutions to small and medium-sized entrepreneurs. It is in the Arboledas area, in the municipality of San Pedro Garza García in the city of Monterrey.

The concept of this corporate office was to transmit the company's line of business, its human capital and its corporate identity in an architectural language that adapts to the new reality of hybrid work. The office becomes an annex of the house and seeks to encourage communication and collaboration of users through different fewer rigid workspaces such as casual collisions, booths, and bars, which are spaces for formal meetings, but also serve to relax and clear the mind. It also has lounge areas adaptable to different scenarios that, in support of technology, make each of them the ideal workplace for a person, at a certain day and time.

One of the most iconic spaces of the corporate headquarters is the amphitheater called "El Olivo" for its circular shape. This space is a multi-purpose meeting center that is used for staff meetings, a place for relaxation and entertainment, or a space for corporate talks and chats. It is crowned by a series of panels that follow the circular shape of the enclosure and help to control the acoustics of the space.

The project uses warm materials such as oak wood for wall cladding, some light marble tops and carpets in gray tones that generate an almost home-like atmosphere together with accents of vegetation that seek the well-being of the collaborators who work in the company.
Design: Jose Lombana Arquitectos
Photography: Arturo Arrieta