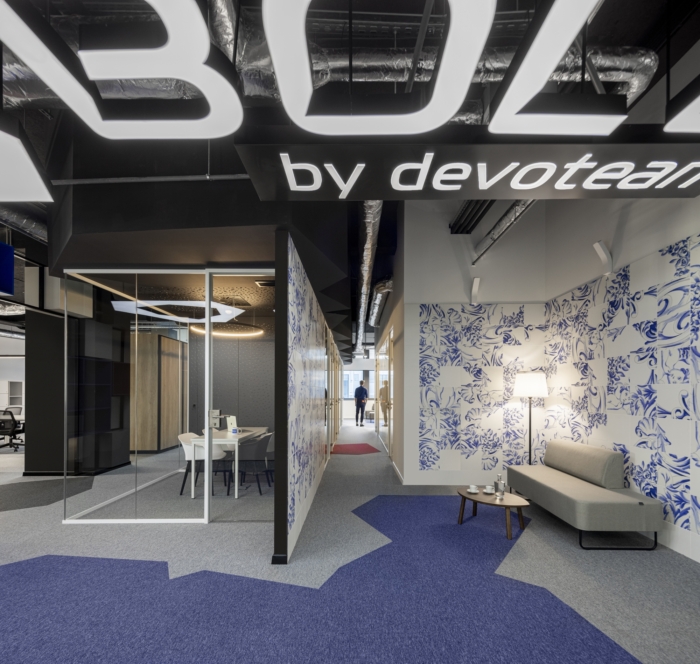 BOLD by Devoteam Offices – Porto
Inception Architects Studio provided various work options at the BOLD by Devoteam offices located in Porto, Portugal.
Following its expansion project in national territory, BOLD by Devoteam asked us for a new project, this time for the North of Portugal. Oporto was the chosen destination and Palácio dos Correios building, right in the heart of Invicta, was the emblematic place chosen to host the new office.

This office, like the previous ones, seeks to combine and mix several different work areas.

Its functional program consists in a small reception; a core with 6 small meeting rooms, break-out and informal meeting areas with 3 associated small-pods; two work areas – one open-space, another more closed for the administration, and a small auditorium area for "talks" and conferences, followed by a food court for meals and the team's leisure time.

The space is intended to be fluid, creative and charismatic, reflecting Bold's values and characteristics.

In honor of the city that welcomes it, some elements and materials, such as chosen colors or tiles, appear on the walls and in some furniture, bringing back to memory Oporto and its fine colors.

The sober base color palette: white, black and grey, contrasts with the strong, vibrant and dynamic colors of Bold, culminating in the noble and warm wood, which reveals itself in some details of the flooring and furniture.
Design: Inception Architects Studio
Photography: Ivo Tavares Studio