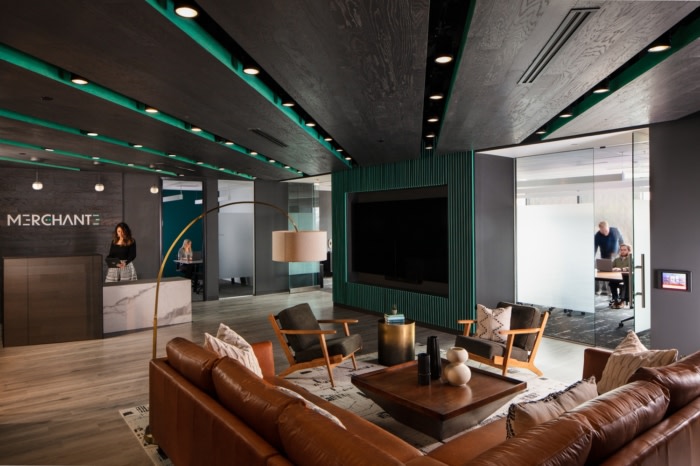 Merchant E Solutions Offices – Alpharetta
ASD | SKY designed the expansion of Merchant E Solutions' new office space with a focus on hospitality, incorporating dispersed collaboration zones, subtle branding, and a warm and inviting environment through the use of wood tones, soft furnishings, and accessories.
ASD | SKY designed the Merchant E Solutions offices in Alpharetta, Georgia.
As a repeat client, Merchant E reached out to ASD|SKY to provide full design services for their expansion into a larger office space. The growing digital commerce platform company sought a design concept that embraced hospitality, giving employees a space, they would enjoy working in. The three key features of this project were disbursed collaboration zones, subtle branding elements, and an overall design approach that mirrors the comfort of a great hotel lobby. Each of the four quadrants of the 55,000 SF floor feature over six collaboration zones. These zones are thoughtfully mixed between open and enclosed as well as small to large. This distribution, along with flexible furniture, allows the space to function for nearly any in person or digital meeting. In lieu of bold logos and dramatic walls, Merchant E's brand is conveyed subtly through space specific patterns, tonal contrast, and creative edge painted applications. Throughout the space, wood plank LVT anchors the environment, adding a level of warmth. Wood tones, soft furnishings, and accessories all add to the hospitality-based approach to the design. At the heart of the space, a residential influenced kitchen provides a communal backdrop to a large all hands space featuring a large digital wall from which company presentations can occur. The combination of hospitality, graphics, and collaborative environments have created a space that feels warm, inviting, and can adapt to the changing needs of corporate office work.
Design: ASD | SKY
Photography: Gregg Willett