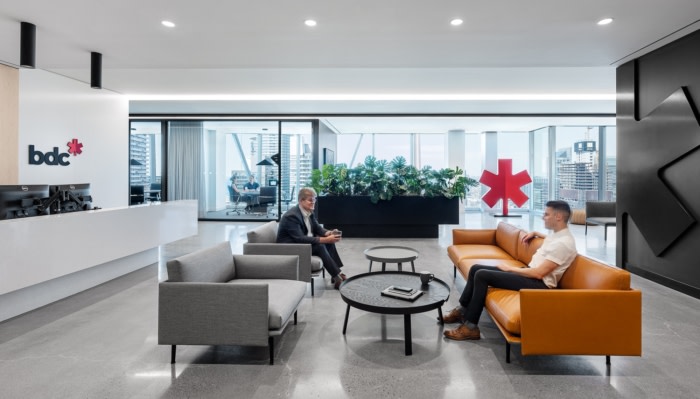 BDC Offices – Toronto
Figure3 incorporated BDC's branding into a modern office design for the financial company's Toronto location, featuring a subtle Scandinavian look with clear sightlines, collaborative zones, and a multi-functional community hall.
Figure3 designed the offices of BDC in Toronto, Canada.
The clean lines of this modern office environment provide an inspired backdrop to the stunning views beyond. Celebrating BDC's new branding, icons and colour references are articulated throughout the space for stunning visual impact that adds depth and interest.

When looking to move their offices to the 37th floor of the new CIBC Square in Toronto's Financial District, BDC engaged Figure3 to give the space a suitably young, sharp and fresh approach. With a subtle Scandinavian look that hearkens back to BDC's Montreal head office, this modern, adaptive space features a unique fluidity and reflects the straight-forward, authentic nature of the BDC brand.

With clear sightlines that reveal spectacular views of the CN Tower and Lake Ontario, the LEED Certified office includes a variety of meeting rooms, collaborative zones and a multi-functional community hall perfect for social connectivity. The reception area allows for layers of accessibility and includes high-security gate points alongside a waiting lounge and discretely placed coffee bar.

Smooth linear lines, refined details and pure materials, such as maple wood create a fresh Nordic vibe and compliment the simple yet impactful brand. Polished concrete floors and a refined ceiling system allow the large format branded elements to stand out. Each bank of offices is wrapped in black with unobstructed views from end to end, and cantilevered forms (such as the reception desk) continue throughout the design to interlock, connect and pull visitors and staff into the different spaces.
Design: Figure3
Photography: Steve Tsai