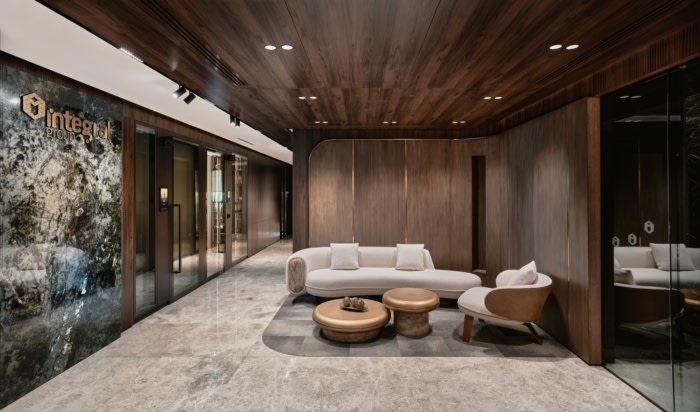 Integral Group Offices – Istanbul
Udesign Architecture designed a modern and stylish office space for Integral Group in Istanbul, with a focus on enhancing productivity, teamwork, and team motivation through open space layouts, communication rooms, and common areas.
Udesign Architecture designed a sophisticated office space for Integral Group in Istanbul, Turkey.
Udesign Architecture designed a 600 m² office area in Istanbul for Integral Group, which is in the business of building various sports structures and sports facilities in Turkey and around the world.

The aim of the office design was to create a new workplace that would be the common point of contact for Integral group employees and customers visiting the office. For this reason, it has been our basic principle to use simple, stylish and modern lines all around; from furniture placement to the location of the rooms, material and color choices.

We applied this modern design approach, starting from the entrance of the office, throughout the entire journey in the space. We tried to give this modern feeling in different rooms and common areas, both in the sense of materials and furniture.
Open space office layouts, communication rooms, common areas are designed to enhance productivity and creativity in every way. Increasing teamwork and team motivation were other main focuses of the design approach.

The cabinets, wardrobe, kitchenette, technical and special areas that we place around the core area in the center of the floor plan are easily accessible from any point of the office. As Udesign Architecture we believe in the power of natural light and for that reason, the meeting rooms and alternative workspaces facing the facade windows are surrounded by clear glass partitions to allow natural sunlight to reach areas closer to the core of the floor.

Marble and wood were used in the reception counter, wall and floor coverings in the entrance hall, and wooden materials were used in the working areas. In addition to these details, the use of tone-on-tone colors added freshness and warmth to the space.
Design: Udesign Architecture
Photography: İbrahim Özbunar