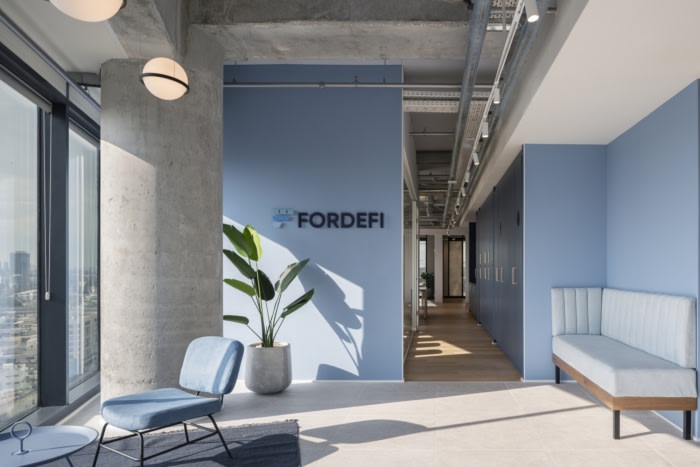 Fordefi Offices – Tel Aviv
Switchup created a lively space with natural light at the Fordefi offices in Tel Aviv, Israel.
Fordefi is a cutting-edge platform for secure and seamless web3 transactions, trades, loans, stakes, and votes in decentralized finance. They see a world where everyone's personal data is more secure, and we can surf the web without worrying about who has our private information. To bring their vision to life, Fordefi sought the help of Switchup to design a workspace that reflects their brand values and encourages productivity and collaboration.

The Fordefi office, located in Recital Tower, features an open and structured layout. The office is designed to optimize workflow and encourage communication among team members. The use of dark blue and grey color schemes provides a professional and authoritative look to the workspace, reflecting the trust and security that Fordefi offers to its clients.

The office is flooded with natural light, creating a bright and lively atmosphere. The abundance of sunlight boosts the mood of the employees, keeping them energized throughout the day. The office is also equipped with high-quality lighting fixtures that help to enhance the workspace's overall aesthetic appeal, complementing the natural light instead of replacing it.

To complement the open layout, Switchup has designed the workspace with collaborative spaces and conference rooms. The conference rooms are equipped with cutting-edge audio-visual technology, allowing Fordefi to host virtual meetings with team members from across the globe. The collaboration spaces, including standing desks and breakout areas, encourage teamwork and creativity.

Switchup has also incorporated state-of-the-art technology into the office's design, including a fully equipped IT infrastructure and advanced security systems. The technology infrastructure enables Fordefi to operate seamlessly, while the security system ensures the safety of sensitive client data and digital assets.

The Switchup team successfully designed an office space that reflects the innovative and secure nature of Fordefi's mission. The careful attention to detail in designing this space ensures that the Fordefi team can work effectively, comfortably, and confidently in a workspace that aligns with their company's vision and values.
Design: Switchup
Photography: Michael Shvadron