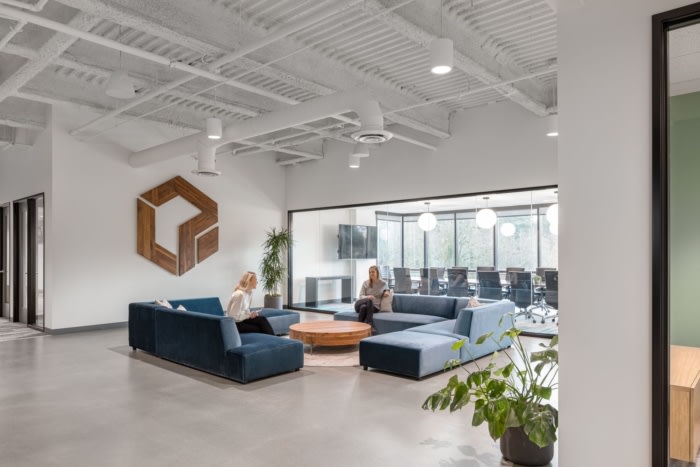 Logical Position Offices – Lake Oswego
DESIGN+BUILD Workspaces embraced a natural feel with individual and collaborative spaces at the Logical Position offices in Lake Oswego, Oregon.
Due to rapid growth, Logical Position's team was split across multiple buildings, resulting in a fragmented workspace that presented a significant challenge. To address this issue, the team set out to create a single, cohesive space that could cater to the diverse requirements of each department.

The DESIGN+BUILD team worked closely with management to create a space around the idea of "togetherness," which led to the idea of cutting a large opening in the concrete slab to accommodate a bleacher stair that provides an architectural connection between the first two floors, just beyond the reception area. The new space hosts a wide variety of working environments to accommodate the different work styles across the various teams and departments. The result is a secure and light-filled space that conveys the clients' values of dynamic, transparent, collaborative, and fun.

Among the many impressive design elements, the removal of a cement wall and installation of a wooden staircase was a standout feature that effectively linked various areas of the workspace and greatly improved its functionality.
Design: DESIGN+BUILD Workspaces
Design Team: Maddy Mackin Freeman, Sara Donovan, Daniel Snair, Andrew Snair
Photography: Josh Partee