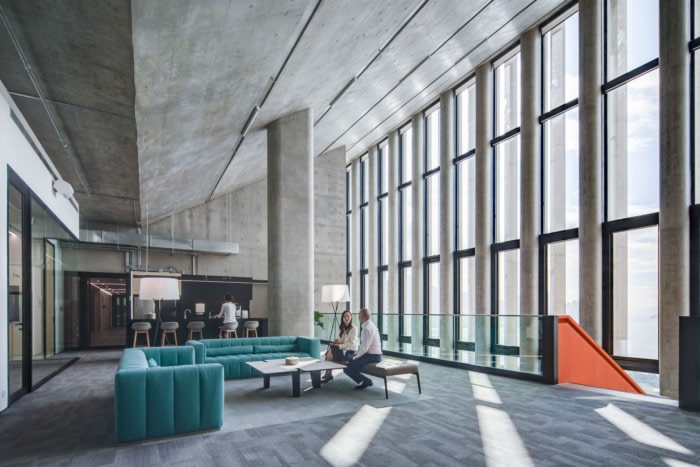 Peak Re Offices – Hong Kong
M Moser Associates designed a spacious, elegant, and agile workplace with art as a guiding principle for Peak Re's new Hong Kong HQ, a space emphasizing inclusivity, community, and employee wellbeing.
M Moser Associates was tasked to create a space for Peak Re to attract and maintain talent in Hong Kong.
Peak Re is a reinsurance specialist that focuses on supporting client needs to drive positive change for businesses and society. Following exponential growth, the company needed a top-notch space for international talent and clients. In relocating, it engaged M Moser to create a workplace that would reinforce the brand tone and portray the company vision.

At a glance
Art as a guiding principle to support inclusivity and community.
A spacious, elegant and agile layout for collaboration and growth.
A unique world-class space that sparks creativity and reinforces the brand.
Advancing ESG ambitions with a one-of-a-kind design for a people-first culture.

In the heart of Hong Kong's cultural district
For Peak Re, relocating was a chance to revamp its brand, reaffirm its core values and rethink how its people collaborate and communicate. For its new HQ, the company chose West Kowloon District – the cultural heart of Hong Kong.

This vibrant, international environment is well matched with Peak Re's ethos. Throughout the four floors, there are artworks created by staff during team building workshops. Forging a strong connection with the surrounding area, these paintings encourage creativity and offer non-verbal cues about the company. Clients and employees feel a cultural fit as soon as they step into the space.

An important factor of this workspace is the natural light. Ample floor-to-ceiling windows and columns bring in the sunshine, changing the environment as the day unfolds. A big staircase featuring Peak Re's colours looks over the hall and connects the 15th floor and the loft.

Elevating a world-class space through people-first design
Through interviews, our experts gained insight into Peak Re's aspirations for its new flexible and agile office. We addressed the requirements by leveraging a world-class building and transforming it into a spacious, elegant workplace where people are seamlessly connected. We demarcated areas for meetings, heads-down work and relaxation to support a diverse, international team.

Big windows and balconies on each floor improve air circulation and morale while creating a memorable impression.

Supporting diverse work styles and interactions
New surroundings are refreshing and can encourage innovation ways of working. Breakout areas attract staff who need a place to ideate.

The open layout of each floor supports communication and allows staff to move through the workplace as their day or workload dictates. Additionally, we used glass walls in conference room to increase transparency and improve participation.

Embracing and realising ESG objectives
Workplace design can drive a business' core values and elevate its reputation. Peak Re's mission is to make people's lives better, so we created its new office with the same aim. LEED Gold certified and WELL Gold targeted, the space puts health and wellbeing at its core.

Moreover, the office has low-flow water fixtures, high-efficient LED lighting, occupancy and sensor lighting controls. It also has energy-star labelled equipment and appliances to reduce water and energy consumption. Air quality is controlled through technology and each workspace is equipped with wireless power stations for a seamless experience.

From the colour of a meeting room to the comfort of furniture, there are many considerations that can help people thrive at work. With this in mind, we incorporated adjustable workstations, colourful details, greenery and a range of collaboration settings. The overall look-and-feel boosts mood and encourages proactive work.

Designed for health, wellbeing and flexibility
Additionally, amenities such as parent rooms, balconies and recreation areas are key to supporting mental and physical wellbeing. Flexible areas can be used for hosting monthly yoga classes, nutrition programs or wellness initiatives. These activities educate and empower employees to maintain sustainable, healthy lifestyle choices.
Design: M Moser Associates
Photography: Harold de Puymorin