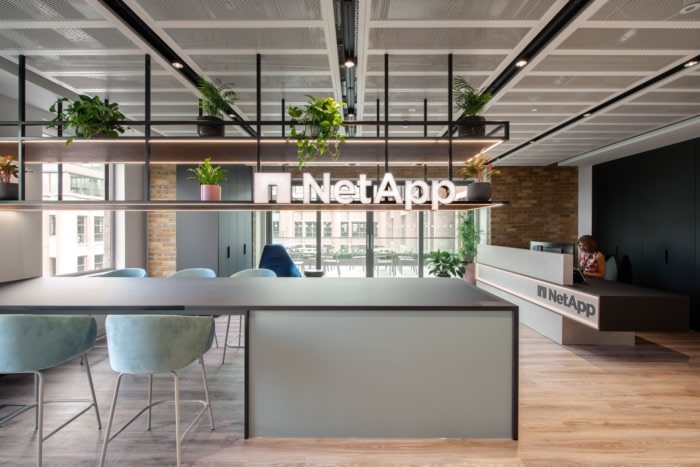 NetApp Offices – Windsor
DENTON designed a new workspace for NetApp in Windsor that fosters collaboration, innovation, and employee wellbeing, with a commitment to sustainability evident throughout the project.
DENTON utilized cool tones to create an inviting space for the NetApp offices in Windsor, England.
NetApp, a global leader in hybrid cloud solutions, recognised the need to move to a new workspace that reflected their innovative spirit and supported their growing workforce. Enter DENTON, renowned for their expertise in creating exceptional workplaces that align with their clients' visions and goals.

DENTON's Approach: Merging Vision with Design Excellence
DENTON embarked on a comprehensive journey with NetApp, first gaining an in-depth understanding of their unique organisational culture, work processes, and future aspirations. Armed with this knowledge, DENTON's team of visionary designers meticulously crafted a tailor-made solution that would not only meet NetApp's immediate needs but also ensure scalability and flexibility for future growth.

Creating an Inspiring Work Environment
DENTON's design philosophy revolved around creating a workplace that fostered collaboration, innovation, and employee well-being. By blending aesthetic appeal, ergonomic considerations, and the latest workplace trends, they ensured a seamless integration of form and function.

The new NetApp workspace boasts open and dynamic areas, encouraging cross-functional collaboration and idea-sharing. Thoughtfully designed meeting rooms equipped with cutting-edge technology empower teams to conduct productive discussions and brainstorming sessions. Additionally, strategically placed breakout zones provide opportunities for spontaneous interactions, stimulating creativity and fostering a vibrant work culture.

Enhancing Employee Well-being: A Priority
Recognising the importance of employee well-being, DENTON integrated various wellness initiatives within the workspace. These initiatives promote a healthy work-life balance, allowing individuals to recharge and rejuvenate during the workday.

Sustainable Design: A Commitment to the Environment
DENTON's commitment to sustainability is evident throughout the project. By incorporating energy-efficient lighting, optimising natural light utilisation, and utilising eco-friendly materials, they have created an environmentally conscious workspace that reduces NetApp's carbon footprint. This also supports DENTON's commitment to sustainability as part of their new comprehensive ESG policy.

The Successful Outcome: NetApp's Thriving New Home
The transformational journey orchestrated by DENTON culminated in NetApp's successful relocation to their new inspiring destination. Employees embraced the fresh, modern environment, leading to increased engagement and productivity levels. The new workspace not only reflects NetApp's brand identity but also positions them as an employer of choice, attracting top talent in the industry.

DENTON's collaboration with NetApp exemplifies their unwavering dedication to creating remarkable workplaces that empower organisations to thrive. Through meticulous planning, innovative design, and a deep understanding of their clients' needs, DENTON delivers transformative solutions that go beyond expectations. NetApp's relocation to an inspiring destination stands as a testament to DENTON's ability to shape the future of work and propel organisations towards success.
Design: DENTON
Photography: Thierry Cardineau