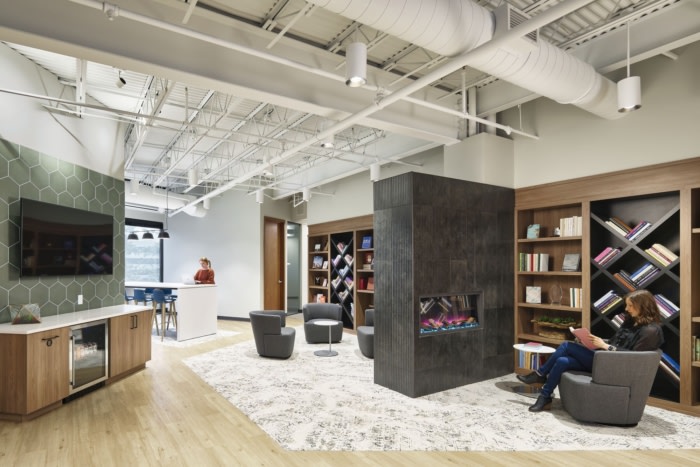 Baker Publishing Group Offices – Edina
BDH completed the Baker Publishing Group offices with warmth and natural light in Edina, Minnesota.
Baker Publishing Group, a Christian book publisher, needed a functional and collaborative office environment that catered to their diverse set of needs while reflecting their brand identity. The 8,400-square-foot office embraces versatility with a thoughtfully curated mix of private offices, open workstations, and a multitude of collaboration areas. Enclosed conference rooms provide a professional setting for client meetings, while high top tables and ancillary furniture groupings foster organic touch points and internal connection. Despite the challenges posed by an angular building footprint and a floor plan divided by a required corridor, the design team strategically positioned the breakroom, amenity areas, and departmental adjacencies to maintain a harmonious flow and uphold the unified company culture.

Capitalizing on the picturesque, wooded landscape and marsh land surrounding the building, the conference rooms, break room, and private offices were purposefully positioned along the windows. These strategic placements not only offer breathtaking views of nature but also evoke a sense of tranquility during meetings and lunch breaks and provide a serene environment for editors reviewing manuscripts. The influence of the exterior surroundings extends to the interior aesthetic as well. Soft, earthy tones were carefully integrated into the furniture and finish selections, mirroring the peaceful essence of the flourishing natural landscape just beyond the windows.

The bookcases in the lobby and open office area are the standout features of this unique space. Brimming from top to bottom with books published by Baker Publishing Group and their publishing partners, they exude a grandiose charm. The bookcases not only entice end users to grab a novel off a shelf and curl up in a cozy chair alongside the fireplace for an engrossing read, but they also celebrate the remarkable achievements and unwavering dedication of the authors and publishing staff.
Design: BDH
Contractor: The Bainey Group
Photography: Pete VonDeLinde