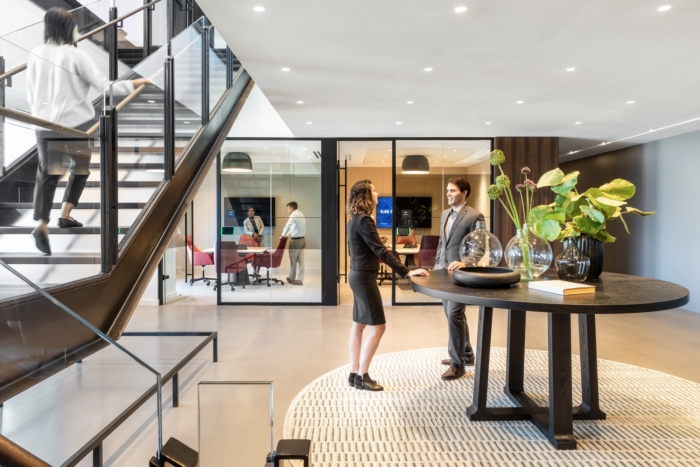 AEW Capital Management Offices – Boston
Elkus Manfredi Architects designed a welcoming and thoughtful space for the AEW Capital Management offices in Boston, focusing on transparency, inclusion, employee wellness, and a mix of refined and industrial design elements.
Elkus Manfredi Architects designed a welcoming and thoughtful space for the AEW Capital Management offices in Boston, Massachusetts.
The vision for AEW's new office space was to create a welcoming environment that promotes transparency, inclusion, and employee wellness. The design aimed to reflect the company's status as an industry leader while also embodying its approachable culture. A hybrid activity-based working and learning culture was established, providing employees with various options and choices that encourage collaboration and accommodate diverse working styles.

To understand the company's culture and behaviors, the Elkus Manfredi team engaged the AEW workforce in a co-creation process. This process involved collecting and analyzing seat-sensor data to gain a concrete understanding of how the workspace was being used. This data, combined with employee input, provided a reliable foundation for designing the new headquarters.

Artwork played a significant role in the office, serving as a mission rather than mere decoration. A curated selection of original artwork, including the HELP Portfolio, was acquired. The HELP Portfolio consisted of limited-edition prints donated by 16 artists, with profits going to 16 charities affected by the pandemic.

The design decisions aimed to convey transparency and introduce natural light deep into the interior. Private offices were moved to the center of the floorplate, while workstations and collaboration areas were positioned near the windows. This shift created a more employee-centric design that prioritized work areas and collaboration spaces, while fewer employee areas were located toward the core.

The design solutions focused on creating a rich variety of work settings, including acoustically private conference rooms and diverse collaboration spaces. Throughout the office, a mix of refined and industrial elements created a sophisticated yet comfortable atmosphere. Work neighborhoods were formed, each featuring a communal "back porch" with views of Boston Harbor and the city skyline. Employees were able to customize their back porch with furnishings that suited their work needs.

The overall design employed a timeless neutral palette of grey, black, and white, allowing the artwork and furniture to provide color and visual interest. Concrete flooring and dark metal in the reception lobby established an industrial feel, while clean-lined leather sofas and floor-to-ceiling views softened the space. Various flooring materials, such as polished concrete and carpeting, defined different zones and contributed to the refined-industrial aesthetic. The Ciao Café served as a co-working space with diverse seating options, expansive views, and healthy nourishment.

Art played a significant role throughout the office, showcasing works that reflected AEW's commitment to diversity and inclusion. Pieces by well-known artists like Charles Gaines, as well as the HELP Portfolio and local artist Sidney Perry, were included in the art collection.

Overall, the new office design successfully captured AEW's vision of a transparent, inclusive, and employee-centric workspace. The combination of data-driven solutions, employee input, and curated artwork created an environment that supports recruitment, retention, and career-long learning for top talent.
Design: Elkus Manfredi Architects
Contractor: Bond Brothers
Photography: Evan Joseph