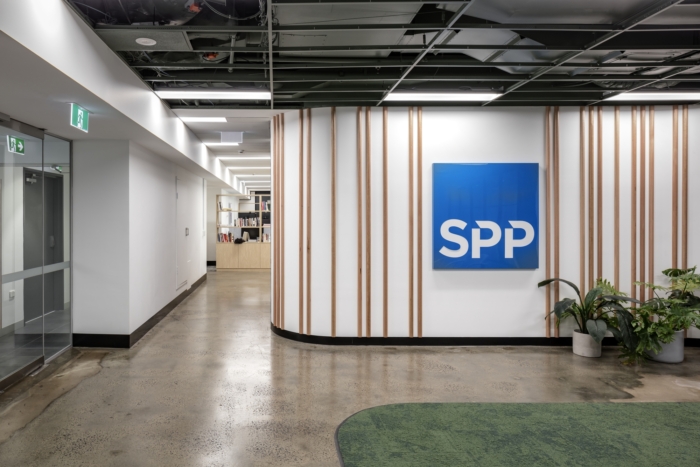 SPP Offices – Melbourne
Vemi designed a collaborative and light space for SPP offices in Melbourne, incorporating natural elements, contemporary aesthetics, and eclectic artwork to create a connection to nature.
Vemi created a collaborative and light space for the SPP offices in Melbourne, Australia.
Situated within the newly refurbished 150 Lonsdale Street in Melbourne CBD, this A-Grade building commands a certain caliber of workplace fit outs and specific requirements. The SPP workplace concept was inspired by the "Gardens of Melbourne". Encouraging abundant, forest-like greenery throughout the space – the design uses a harmonious blend of natural elements and contemporary aesthetics. Plywood timber lightens the space and brings warmth, exposed concrete aids textural difference, and whilst sage hues and pale vermilion accents reaffirm a connection to nature.

The client had an extensive collective of eclectic artwork. It was apart of the design brief to incorporate these pieces as features in the space – bringing colour, textures and personality. Part height library shelving systems line the corridors – designed to divide the space without reducing light flow and encourage employees to grab a book. At the core of the SPP project lies the dynamic breakout area. Designed to be the staff hub of the office, this spacious area boasts a large, equipped kitchen and various seating styles (banquette, dining and booth seating). It also doubles as a town hall environment, with a tiered seating unit designed to accommodate large presentations and gatherings.

The SPP workplace design cultivates pride and rejuvenation to its staff and offers urban charm to the 150 Lonsdale building. The blend of nature and contemporary aesthetics exemplify our belief in designing spaces that resonate with each individual company and their unique values.
Design: Vemi
Photography: Nathan K Davis