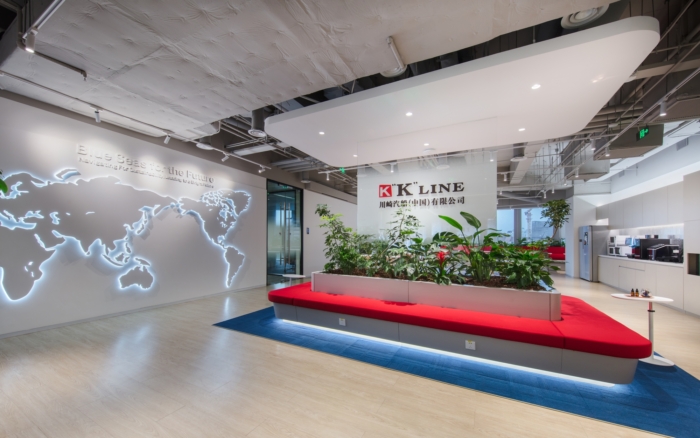 K Line Offices – Shanghai
The project, designed by Ann Lee of Okamura, focuses on creating a spacious and premium working environment in the new office of a Japanese shipping company in Shanghai, China.
Ann Lee of Okamura created a space for the K Line offices with a variety of dynamic offices in Shanghai, China.
Being a Japanese shipping company, the client would like to have a better spaciousness in their new office.

To meet their requirement, we divided the space into meeting area, working space and multi-functional café. Different from the design we've done for other Japanese companies, we enlarged the width of the corridor, extended the space between the workbenches and expand the distance from the conference table to the walls. This spaciousness helps to create a premium working environment.

We combined the reception, waiting and communication area together, where the sofas are upholstered in client's vessel signature color and the carpets in marine blue. With the shining world map on the wall, the image of sailing pops into visitors' eyes at the arriving of the elevator hall.
Design: Ann Lee of Okamura
Photography: courtesy of Okamura