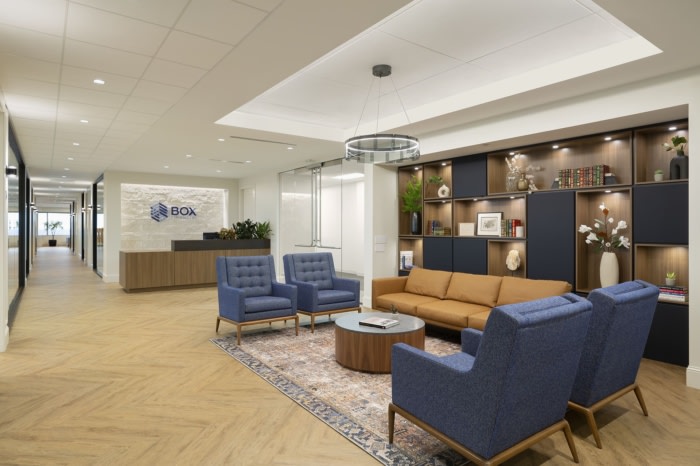 Box Financial Offices – Minneapolis
10K Architecture provided a welcoming and inviting environment at the Box Financial offices located in Minneapolis, Minnesota.
Box Financial is a firm whose "advisors provide the tools to help clients use their finances to experience an exceptional life". That goal for exceptionalism translates to the customer experience that Box Financial provides. From the moment a client enters the space they feel welcomed, comfortable, and confident in the Box Financial team.

The transitional design creates a high-end residential feel using traditional detailing, custom built-ins, and warm materials. Those elements are contrasted with large expanses of glass, giving the office an open, airy feel. The glass also capitalizing on the stunning views of downtown and greater Minneapolis including an up-close view of the historic Foshay tower from the CEO's office.

In the planning of the space the design team never lost sight of elevating the client experience. However, the employee experience was also top of mind. In an era of remote and hybrid work, it was important that the space draw the clients, as well as the employees, to the office. Fostering relationships between the advisors and clients demanded places for in person private meetings. Employee learning, mentorship, teambuilding, and larger social gatherings required areas for gathering. Spaces were created that foster interpersonal communication and collaboration and provide staff the opportunity to work in a lounge type environment when they would like to get away from their workstation or office.

Projects like Box Financial are contributing to the return of life and vibrancy to post pandemic downtown Minneapolis.
Design: 10K Architecture
Contractor: MP Johnson Construction
Furniture: CFS
Photography: Andrea Rugg