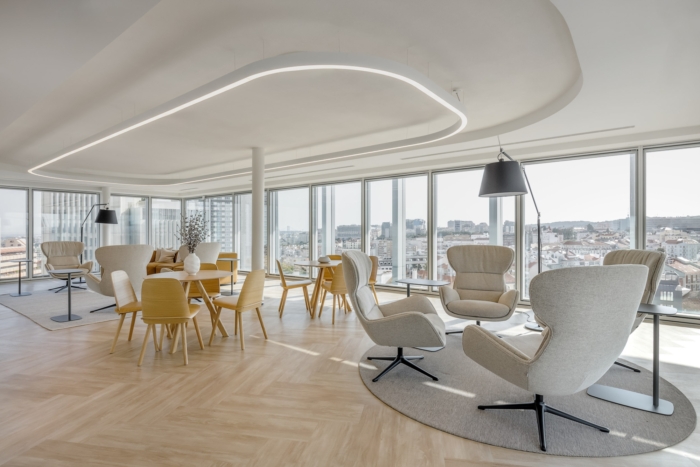 BPI Offices – Lisbon
CBRE created the BPI offices with a variety of colors and materials for their space in Lisbon, Portugal.
The emblematic Monumental Building was reborn as BPI's new premises. The offices house the Executive Committee of the Board of Directors and around 1.000 bank employees on 11 floors. In this project, built by Vector Mais and designed and managed by CBRE, sustainability, technological innovation, and comfort took a central role. The space offers excellent working conditions, maximising collaboration and well-being, providing spaces primarily organised in open space, with meeting areas and soundproofed individual work areas.

The design favours the use of recyclable and natural materials of national origin, emphasising the adoption of Portuguese Burel fabric in the soundproofed rooms. On all floors, there is also a meeting space covered entirely with Portuguese cork, called the 'Cinema Room', a concept that honours the history of the Monumental. The administration and Private Banking areas were also a significant focus in the design of the project and its implementation, involving careful construction across various environments, where the use of quality materials such as wood, metal and glass stand out.
Design: CBRE
Contractor: Vector Mais
Photography: Spaces and Places