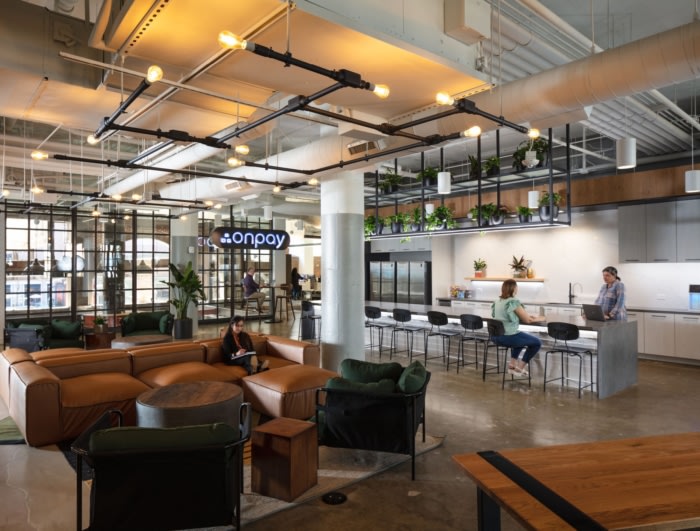 OnPay Offices – Atlanta
ASD | SKY worked to deliver the OnPay team an office that was both welcoming and sophisticated in Atlanta, Georgia.
ASD|SKY worked closely with OnPay, a flexible payroll service firm, providing interior design and graphic design services for their new 20,830 SF space located within Atlanta's own Ponce City Market.

Celebrated the office's past life as an assembly space, the design aesthetic embraces the industrial character of OnPay's new home. Our design team repurposed the millwork and the antique pipe-like light fixtures; and centered the polished concrete floors and exposed brick walls as prominent design elements. Ghosting the open ceilings and HVAC equipment as a uniform white color helped to "right-size" the expansive height for this intimate office.

This raw, open office, unbroken by opaque walls, includes workstations, offices, conference rooms, and a break area featuring several soft-seating opportunities that serves as the heart of the space. This central space, similar to a kitchen at home, is where everyone congregates.

One conference room overlooks the entrance to Ponce City Market, offering a one-of-a-kind vantage point to the bustling energy of visitors and guests. This conference room features self-frosting glass which can electronically fog to an opaque white to facilitate both privacy and focus.

Glass fronts are utilized throughout the space to divide the office without disrupting views and natural daylighting. Plants abound, softening the industrial feel and making employees feel at home. As a nod to Atlanta's identity as "the city in a forest," our team constructed a sophisticated pop-out 'tree house' gathering spot, featuring a dark emerald wall and ceiling, woven bamboo lampshades over pendant lighting, and a variety of seating including stools, a leather ottoman, and a soft neutral-colored couch. Tan, leather chairs in the meeting areas, and comfortable couches and chairs in natural browns and greens offer employees, clients and guests a wide venue of seating and gathering options.

A medium-toned wood and unique OnPay brand accents spill into an auditorium-style platform step and floor element, which doubles as a training room space. A refurbished railroad tie with a natural varnished wood serves as the prominent design feature at the reception desk. This installation celebrates the story of the historic railroad that went on to become the beltline. Demarcated with subtle environmental graphic lines and thicker translucent rail patterns that accentuate the custom back-lit 'OnPay' sign, immediately identifying the brand to all PCM visitors.

Even the many dining and entertainment options offered within their new home building can't compete with the welcoming comfort of OnPay's fresh work environment!
Design: ASD | SKY
Photography: Greg Willett