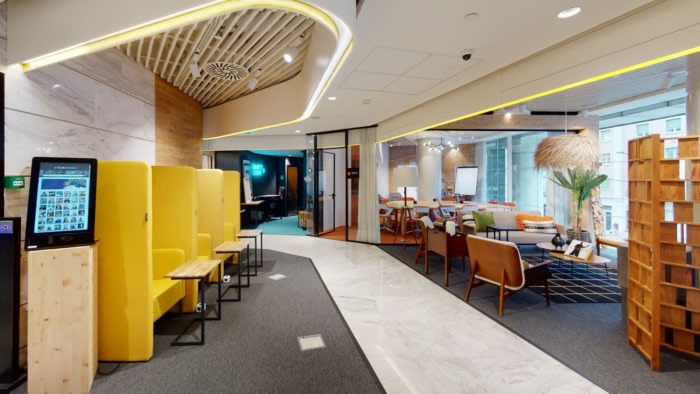 Avila Spaces Atrium Saldanha Coworking Offices – Lisbon
Avila Spaces completed a dynamic yet cohesive space for their Atrium Saldanha coworking offices in Lisbon, Portugal.
Avila Spaces is the award-winning coworking space located in the heart of Lisbon's shopping district at Atrium Saldanha. As the winner of the "Best Coworking Space in the World 2023" title at the Global Startup Awards and the most awarded coworking space in Portugal, Avila Spaces offers an exceptional coworking experience that sets us apart from the rest.

At Avila Spaces, we pride ourselves on providing state-of-the-art technology and high-speed internet, ensuring that our members have everything they need to succeed. Our meeting rooms are equipped with videoconference systems, allowing our members to connect with clients and colleagues from anywhere in the world.

At Avila Spaces, we believe that a well-designed and decorated workspace can significantly impact our members' productivity and overall well-being. Our coworking space is designed to provide a warm, welcoming environment that fosters creativity, collaboration, and innovation. Our architects and designers have carefully curated every detail of our space to create a balance of comfort and functionality, providing our members with an exceptional coworking experience. With elegant decor, comfortable furniture, and thoughtful lighting, our members often say they feel like they are working from home. At Avila Spaces, we believe in the power of a beautiful workspace and how it can contribute to our members' success.

What sets Avila Spaces apart is our 'Work City' concept, where all services, including a bookstore, printing store, hairdresser, and restaurants, are under the same roof, providing a truly unique coworking experience. Our location in the Atrium Saldanha shopping mall is one of the first coworking spaces in Europe to be located in a shopping center.

With 90% occupancy, our space attracts a diverse range of professionals, from entrepreneurs to multinationals that adopt a hybrid model. Our members have access to several work environments, including exclusive use desks, hotdesking in a business lounge environment, meeting rooms, an auditorium, and event space.

As we continue to grow, we are excited to announce our plans for expansion within the building, where we will offer private offices for work teams. At Avila Spaces, we are committed to providing a premium coworking experience that combines comfort, style, and innovation.
Design: Avila Spaces
Photography: courtesy of Avila Spaces